SSB interview Picture Perception and Description Test Picture Story Writing Practice Set - 5
Total Questions
: 1
Max Marks
: 100
Duration
: 10 Minutes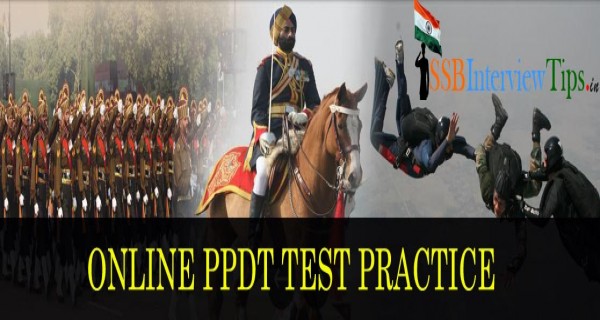 Online PPDT picture practice set
PPDT test of SSB is the key test to decide your fate in the SSB interview. If you want to crack SSB you must be a good PPDT story writer.
Picture Perception and Description Test is all about percepting and describing the PPDT image shown to you in the exam. But most of the aspirants fail to have good perception about the exam. It is not because they don't have the ability to percept, it is because of their limited exposure to the PPDT stories.
Many candidates who undergo SSB coaching, will byheart the PPDT stories and loose out at the later stage when SSB officials look for original stories which showcase one's OLQs.
Our SSB picture perception test examples are best for practicing. It is important for all aspirants to practice as many SSB PPDT pictures as possible before appearing in SSB interview.
Practice makes man perfect.
The same old proverb is good for PPDT test also. Practice alone can make you perfect in writing stories of Picture Perception test in SSB interview.
As we give an opportunity to get your PPDT story checked by experts, you get more exposure on how to write good PPDT stories. Also you will come to know about your shortcomings which is very important for a candidate who is serious to pass SSB interview.
SSB Picture Perception and Description Test is not a tough test but many aspirants do not understand about what kind of the story they have to write. This makes many aspirants loose out to those aspirants who are well aquainted wih the testing procedure.
About the current SSB Picture Perception and Description Test practice set
Current practice set of SSB PPDT test is our fifth practice test. If you have not checked out our previous practice tests on PPDT, please go on and check them too after taking the current PPDT practice test. It is recommended that the SSB aspirants appear for maximum number of online tests so that they can get maximum exposure of SSB interview tests.
Detailed Instructions
PPDT picture will be shown for one minute time.
Candidates should carefully observe the picture when it is shown on the screen.
After one minute, PPDT image will disappear and you have to write your own story.
For writing story of PPDT picture, you will get four minutes.