PV Sindhu loses the final Rio Olympics match with Carolina Marin and settled with Silver medal. PV Sindhu creates national record to bag Silver in Olympics games.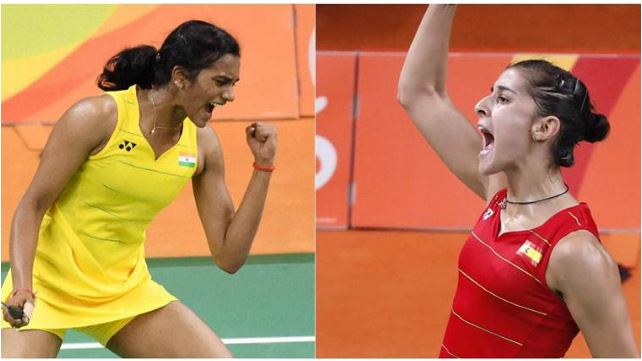 Image Courtesy : Indian Express.com
Image Courtesy : Indian Express.com PV sindhu who is currently World No. 11 is taking on World No. 1 Carolina Marin in the final match of women's badminton of Rio Olympics 2016. In the first set between PV Sindhu and Carolina Marin, though initially PV Sindhu has played slowly and lagged at times, she won the first set by recovering in last minutes. Now second set of Rio Olympics final women's singles badminton match is going on between the players. In the second set, Carolina Marin has started aggressive play and pushed PV Sindhu on back foot. Carolina is now with 9 points whereas Sindhu has 2 points.
Marina is still leading the match with speed and accuracy. She is now 14 and PV Sindhu is lagging at 6 points in the second set of final Olympics badminton singles match. PV Sindhu stuns Marin and bags point. Now Marin comes back and scores a point. Now 8 points lead. Umpire warns Marin for using towel without his permission.
Sindhu scores 8th point. Sindhu at 8 and Marin at 16. Shuttle change request denied. Sindhu scores 9th point. 9-16. Marin scores point. 9-17. Marin once again strikes and score is 9-18. Marin's smash went outside of the court and score is 10-18. Once again PV Sindhu scores a point in similar fashion. Score is 11-18. Wide return from PV Sindhu and score is 11-19. PV strikes back score is 12-19. Will PV Sindhu once again second set? Marin is on the game point now. And Marin wins the second set. Carolina Marin makes strong statement by winning the second set of Rio 2016 Women Badminton finals second set against India's PV Sindhu. Third set starts between Sindhu and Marin. Marin scores first point and quickly second point too. Sindhu scores back. Score is 1-2. Sindhu fighting hard but misses smash and the score is 1-3. Marin surprised with flat return and score is 1-4. Once again cross court finish and score is 1-5. PV Sindhu is struggling a bit now. Seems loosing focus. Will she be able to win the Women's Badminton Gold medal in Rio 2016? Now score is 1-6 and Marin has a clear lead of five points.
PV Sindhu comes back with two points. The score of third set is 3-6 now. Marin strikes back and score is 3-7. PV Sindhu now strikes and scores point. Marin scores ninth point and now she is leading by five points. PV Sindhu proves point by scoring a point. Score is 5-9. Once again a point for Sindhu. Score is 6-9. What a surprise! Sindhu is now 7-9. Marin hits too hard and PV Sindhu scores another point. Marin scores a point as shuttle goes out of the court. Score is 8-10. Sindhu scores and score is 9-10. Match is now heading neck to neck between PV Sindhu and Carolina Marin at Rio Olympics final match. Sindhu once again scores and score is 10-10. What a comeback by PV Sindhu against World no.1 Marin. Wide return by Sindhu and Marin is leading now with eleven points.
Players back on the court.
Marin hit a smash and score is 10-12. Once again Marin scores a point. Now three point lead is with Marin. Marin took review and it was in. Review successful and lead is four points. PV Sindhu scores. Score is 11-14. PV could not keep the shuttle above the net. Score is 11-15. Once again PV Sindhu scores. Score is 12-16.
Wide return from Marin and score is 13-16. Heat is on on the court of Rio 2016 Olympics badminton court. Score is 14-16. Body line smash from Marin and score is 14-17. Score is 14-18. Bad return from PV Sindhu. Score is 14-19. Score races to 14-20.
Marin on game point now and scores the point. PV Sindhu scores.
Alas! PV Sindhu loses the final Olympics final match but still she bags Silver medal for India in Rio 2016. PV Sindhu is the first badminton player of India to win Silver in Olympics. Stay for latest updates.