Our world is full of surprises and is loaded with lots of twists and turns. One must say yes to the world to explore oneself and the world around us simultaneously. Check out how I said yes to the world and how it has changed the way I live and think.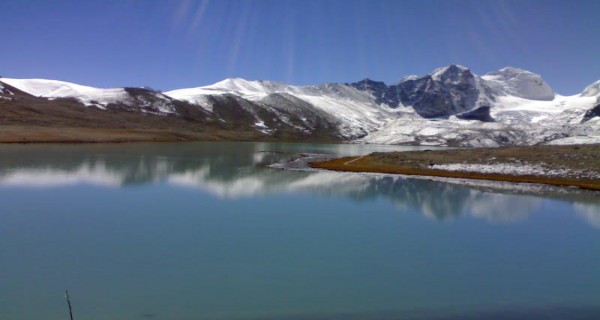 Why say yes to the world?
Why say yes to the world is a million dollar question for all of us who haven't done it. Well all of us have said yes to the world already! Yes, including you and me have said yes to the world long ago. We all said yes to the world when we had just arrived on this planet. We said yes to the world around us. Didn't we? We said yes to adapt to the family members, neighbors, climatic conditions, and the list goes on. Remember the first day of school or college? We had then said to the new world that is full of friends and contenders. Not convinced? Then go on and remember when you drove a car or bike for the first time. So my point is we have already said yes to the world. Now you may be wondering why I am asking you to say yes to the world. These occasions when we said yes were the unconscious ones. Well, look at my tale of saying yes to the world and positive effects of that simple yes.
My first trip to Sikkim - An Eye Opener
It was in the year 2010 when I had taken ten days leave for attending coaching classes but in the last moment, the classes were canceled. Initially, I stayed indoors for a couple of days but the boredom began to creep in. Then I had decided to go out and explore Sikkim to basically not waste the remaining eight days leave. Till now, I was very afraid of outings and traveling to unknown places. But this time I had to travel alone as none of my friends were ready to come along with me to Sikkim. With the help of a friend, I got a travel agent details and I spoke to him and confirmed my travel dates. Though he was only a travel agent who arranged tourist trips in Sikkim, he offered me to help with the hotel booking.
With this, I gathered all the courage and left for Gangtok - the capital city and heart of Sikkim.
I had traveled to New Jalpai Gudi (NJP) and then went to Gangtok. The travel agent was very courteous and had come to receive me to the stand. He dropped me at the hotel located on the MG Road and left after collecting my ID proof and passport size photos for arranging travel pass. I was very tired by the journey on the hilly roads from NJP to Gangtok and decided to stay inside the hotel and rest for the day. The travel agent reminded me to come to the local taxi stand at around ten in the morning with my baggage for the first leg of my journey. I was going to visit tourist places in North Sikkim.
My tour itinerary included Lachen - Lachung - Yumthang - Gurdongmar Lake and back to Sikkim.
I arrived five minutes early at the local taxi stand of Sikkim. There was a small fear inside me about the trip which I will go solo with complete strangers. My heart was beating fast. But I had not let these fears visible on my face. I called the travel agent and he had told me the taxi number and gave another person's phone number. The other person was standing nearby and he introduced me to other co-passengers and told that the taxi would be arriving any moment.
There was a family including two kids and a group of another four Bengalis eagerly waiting for the taxi. The family was very friendly and soon we mingled up. After 30 odd minutes, the taxi for which we were waiting arrived and we were told to hurry up as our journey was already delayed. To my surprise, only Zahid had boarded the taxi and his family stayed back at Gangtok. We sat in the front along with the driver and the Bengali group occupied the rest of the taxi. Within minutes, we headed for our journey to the North Sikkim.
During the journey, I came to know about Zahid and his family. I was impressed by the travel craziness of Zahid as he told me that he used to visit Sikkim once in a year. He has not only became a good friend of mine but also became a tourist guide who would continuously make me notice the nature with another perspective. I was feeling as if I am a World traveller. Soon we became best friends and also we had the advantage of sitting in the front seats as the natural beauty was fully visible to us.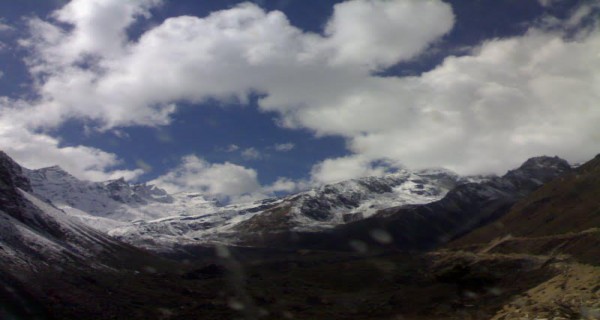 We had lunch in the afternoon and after finishing the lunch while the Bengali group was engaged in their gossip, Zahid took me out and we had a great view of the natural scenery. By then, I was completely mesmerized and was truly got absorbed in my own thoughts. There was never a moment when I thought about my pending work at the office or about other friends or family. It felt like I was born to explore and I was on the trail to achieve that.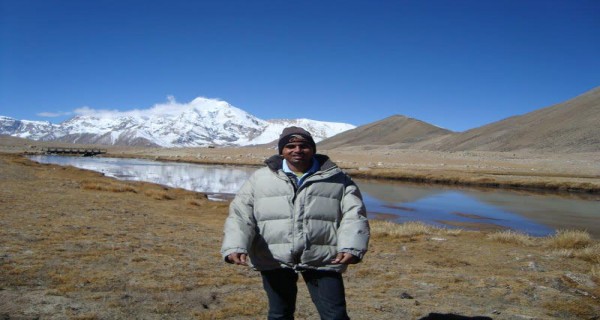 As we reached Lachen it was around ten in the night - thanks to the late beginning of the journey. We had dinner and slept as we had to start early in the morning. In the morning I woke up early and had a bath. Then we visited the nearby places and here also I was filled with the joy. There was a military truck ahead of our taxi. I noticed that the soldiers were very cheerful and it was a view that I will never forget. The ruggedized heavy truck and the cheerful soldiers!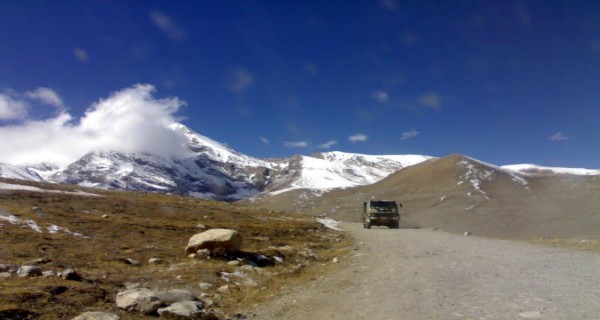 After breakfast, we started and reached Lachung in the night. We spent a night in Lachung and we were ready early in the morning. To our surprise, a tire had punctured and the driver was busy in changing it. Then, Zahid told all of us to go to a waterfall which was visible from where we had stood. All of us went exploring the way to go near the waterfalls. Finally, we managed to go near the waterfall which was untouched by humans to the great extent as tourists are always busy to meet the stringent timelines. I had never seen a waterfall before and it was like heaven for me. We played with the water and even drank water as it was so pure.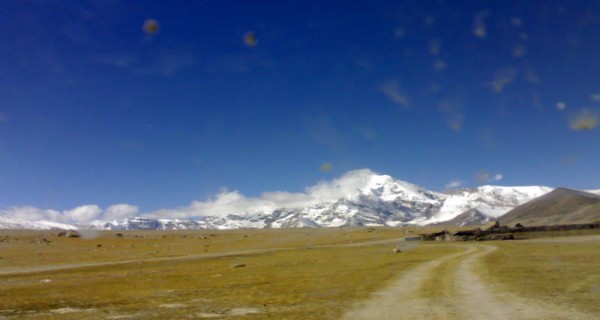 After an hour we started again and reached Yumthang valley which was like another world to me. There was a lake which was very cold and the surrounding beauty was so engaging and scenic that none of us wanted to leave. Then we went to Gurdongmar lake - one of the highest altitude lakes in the world. We were almost at the height of 17,800 feet from Mean Sea Level. Lower oxygen level was clearly felt by all of us but it has not distracted us from enjoying the scenic view. There were mountains covered with snow in front of us and freezing temperature. But we were warmth in our hearts and then to my surprise, the Border Security Force (BSF) had set up a camp there which offered hot beverages to the tourists. A hot tea at this juncture is like drinking Amrith - a drink which would make humans immortal as per the Hindu mythology.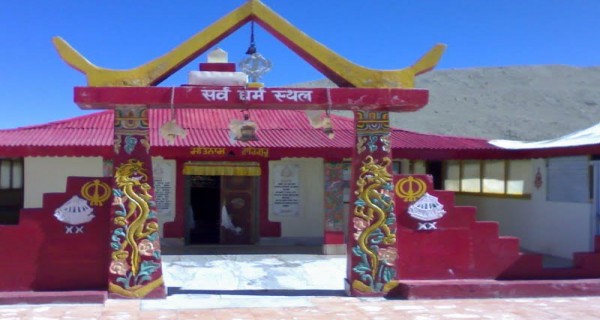 Then we had returned back to Gangtok and I had spent next day with Zahid's family. Then I finally bid adieu to the mesmerizing Gangtok.
This trip to Sikkim has left me with pure compassion and also a deep impression of the world around us. There is a lot of beauty around us! Just we need to take time to explore and experience. I had experienced a different culture of Sikkim people, monks who live in monasteries and tourists who want to utilize the time efficiently.
To be honest, I am not a World traveller but after Sikkim Travel inspiration, I was confident to venture out alone and I had traveled to Araku valley and now I see the world differently as I had said YES to the world.
Will you too say yes to the world? You can say yes to the world here.