Scramject engine flight testing is a grand success. ISRO has successfully tested Scramjet engine today. Check out full details of ISRO's scramject engine test flight here.
India has become the fourth country to successfully conduct flight testing of Scramjet Engine. Indian Space Research Organisation ISRO is moving ahead consistently in its innovative and dedicated missions in the field of space technology. Today ISRO once again proved that India is moving ahead for technology advancement in a rapid speed by successfully testing the Scramjet Engine.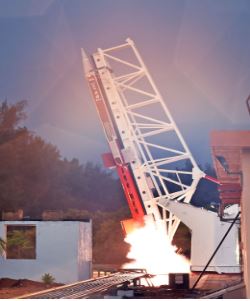 The feat achieved by ISRO team will be able to make satellite launches cheaper. The Scramjet Engine uses atmosphere's Oxygen as the oxidiser and uses Hydrogen as its fuel.
Earlier launch rockets need to carry oxygen for ignition purpose. Thus, by the use of the Scramjet Engine there will be no need to carry the oxygen and also atmosphere's oxygen will be used. Less weight minus oxygen will make the launch cheaper.
Highlights of Scramjet Engine Test Flight

ISRO has conducted test flight of Scramjet Engine at 0600 hrs at Satish Dhawan Space Centre SHAR,Sriharikota.
Mission was successful.
Scramjet Engine was test fired for five seconds.
During the five second testing of Scramjet Engine, ignition of air breathing engines at supersonic speed, holding the flame at supersonic speed, air intake mechanism and fuel injection systems have been successfully demonstrated.
Total time duration of test flight was approximately 300 seconds.
The vehicle landed 320 Km from Sriharikota in the Bay of Bengal.
Thus once again ISRO has proved that India is not far behind to become world's leading space technology country.