5 day SSB interview pattern of Indian Army, Navy and Air Force. Check out pattern of SSB interview stage 1 screening tests and stage 2 tests to become an officer in Indian Armed Forces. Prepare for SSB with our complete 5 day SSB interview procedure.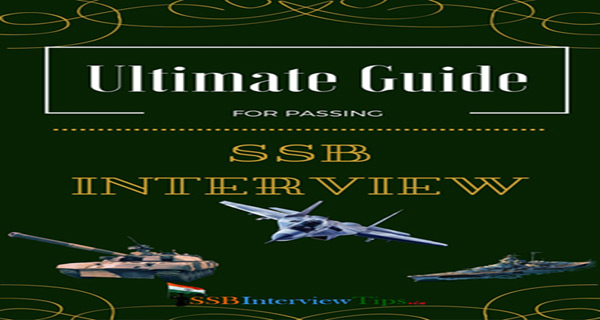 What is SSB interview and its pattern of testing
Hello all, we've come a long way on SSBInterviewTips.in now. All this while we were posting everything related to the SSB interview, it's tips, tricks and model tests. Let us rewind in time and brush up our knowledge on the basics of an SSB interview. If you are new to SSB or are reading about SSB for the first time and want to know more, stay tuned to this profile under the "Back to Basics" series for more updates and sequence-wise coverage on how an SSB interview is held.
Firstly, SSB is not a place to visit like you would on a vacation. Many people I've met have said me this, "Chalo SSB jaake aate hain". Please, stay away if you are not interested in joining the armed forces as it will save much of the board's time and more time can be given to candidates who really want to join the forces.
Coming to eligibility, any 10+2 / graduate / post graduate from any stream is eligible to get into the services of Indian Military. Further eligibility criteria depend on the service you want to join, your age, qualification and so on.
Day wise SSB interview procedure of Indian Army, Navy and Air Force
Now moving on to SSB, it is a 5-day selection process divided into 2 stages. In brief, after you have been called for the SSB, on the very first day, you will have your Stage 1 testing or 'screening' as it is called. It will have two tests, namely, Intelligence Test (OIR) and PPDT. Those who clear this are retained for Stage 2 testing and those who don't are sent back on the same day.
In Stage 2 testing, tests are divided into 3 days starting from the second day at SSB. This day will be of Psychological Testing. This test will have WAT, TAT, SRT and SD. On the third day, Group Training exercises will start that will have GD, PGT, Lecturette, GPE, GOR and HGT. On the fourth day of SSB, remaining group tasks like Command Task, Final Group Task and Individual Obstacles will be tested. In these three days, Interview can happen at any day in between the GTO testing.
Apart from these tests, those candidates who are appearing for Pilot entry are required to appear for Computerised Pilot Selection System (CPSS), a replacement for PABT. It is a once in a lifetime test.
On the final fifth day of SSB, there is a conference procedure. Each candidate has to appear before the entire board presided by the board president. Candidates are asked general questions and suggestions.
After this, there comes the big time- the time when your results will be announced. Right after the conference, SSB results are announced and the candidates who are not recommended are allowed to leave on the same day. The recommended candidates have to stay for further 4-5 days for their medical examination. Those who fail in the medicals are required to appear to the nearest military hospital within 45 days and get their medicals sorted out.
In brief, the 5-day SSB interview can be summed as:
Stage 1 SSB Testing
Day 1: Screening – OIR Test and PPDT
Stage 2 Testing of SSB interview
Day 2: Psychological Testing – WAT, TAT, SRT and SD; Interview
Day 3: GTO Tasks – GD, GPE, PGT, GOR, HGT, Lecturette; Interview
Day 4: GTO Tasks – Command Task, FGT, IO; Interview
Day 5: Conference, Results
Recommended Candidates go for medical examination.
So, are you ready yet to crack the SSB?