Online Word Association Test Practice
Total Questions
: 60
Max Marks
: 100
Duration
: 30 Minutes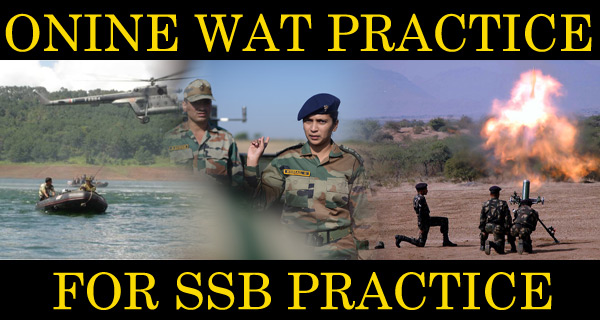 WAT Online Practice Set
Word Association Test
WAt is one of the most easy as well as the deciding tests of SS interview. Here we have provided online WAT practice set for convenience of SSB aspirants. In this WAT test, you need to appear for online test that simulates the original SSB WAT test procedure. Once you click on start button, you will see one word at a time and an answer box where you have to write your answers. Automatically after thirty seconds the word will change and your answer box too. Once the sixty words are over, your answers will be submitted automatically. Soon our experts will review your WAT answers and you will get a feedback about your performance. Looks great? Go on and take our Online WAT test.
Detailed Instructions
A word will be shown to you after set of time
You have to write first thought that came in your mind after seeing the word.
Considering typing speed, we have slightly increased response time.