Want to crack SSB interview and looking for five day SSB interview procedure? Want to know about psychology and GTO tests of SSB interviews? Check out cool and best coaching academies. Your search for best books to crack SSB interviews ends here.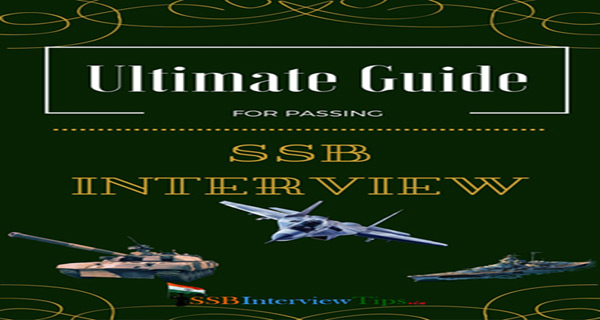 5 Day SSB interview procedure
SSB interviews are conducted by various Services Selection Boards of Indian Army, Navy and by Air Force Selection Boards. These SSB boards selects candidates for commissioned officer posts in Indian Armed Forces through SSB interviews. Thus, if you want to become an officer in Indian Army, Air Force or Navy, you must crack SSB interview. SSB interview is conducted for five days to test all Officers Like Qualities in candidates.
Download SSB procedure in PDF format
How to appear in SSB interviews
There are two ways of undergoing SSB interviews. First method is through applying and qualifying in the following entrance examinations.
National Defence Academy & Naval Academy examination (NDA & NA Exam)
Combined Defence Services Examination (CDSE)
Second method is to apply various Army, Air Force and Navy courses and get SSB interview call letter.
For the following courses, direct SSB call letters are issued after shortlisting the candidates according to the academic marks.
Non Technical Short Service Commission Courses - SSC Non Tech
University Entry Scheme (UES)
IAF's Meteorology Branch Course
Navy's Pilot/Observer entry
Navy's Education Branch entry
So here we have seen the complete information about how to get SSB call letter and ways of becoming officer in Indian Armed Forces.
Tests conducted as part of SSB interviews
There are numerous tests conducted during five day SSB interviews. All these SSB tests can be classified as either psychological tests or as GTO tests.
Psychological tests of SSB interviews
Trained SSB psychologist officers will organize the psychology tests of SSB and assess candidates according to their best judgement. Following are the various psychology tests conducted in SSB interviews.
Pilot Battery Aptitude Test (PABT)
Conference
Group Testing Officer (GTO) tests of SSB interviews
Group Testing Officer or GTO is responsible to conduct all GTO tests which are of outdoor and indoor nature. Following tests of SSB interviews fall under GTO tests.
So these were various psychology and GTO tests of SSB interviews.
Also check out: Online Mock Tests
Day wise SSB interview tests breakdown
Complete SSB interview goes on for five to six days depending upon the type of SSB interview. Here is the breakdown of SSB interview tests day wise.
First day tests
During the first day of SSB interview only psychological tests are conducted. Following tests are conducted during the first day of five day SSB interview.
Intelligence Test
Picture Perception and Description Test (PPDT)
Filling up of Personal Information Questionnaire (PIQ) forms
Second day tests
Following tests are conducted during the second day of SSB interviews.
Word Association Test (WAT)
Thematic Apperception Test (TAT)
Situation Reaction Test (SRT)
Self Description Test
Third day tests of SSB interview
Following tests are conducted on the third day.
Group Discussion test
Military Planning Exercise (MPE)
Lecturettes
Progressive Group Task (PGT)
Intergroup Obstacle race or Snake race
Half Group Task
Command Task
Personal interview for some of the candidates by president
Fourth day tests
Following tests are conducted during the fourth day of SSB interviews.
Final Group Task (FGT)
Individual Obstacles
Interview for remaining candidates
Fifth day tests
On fifth day, only final board conference is conducted and the results are announced by SSB board officials. Thus the following events and tests will be there on fifth day of SSB interview.
Conference
Announcement of recommended candidates
SSB coaching academies
SSB coaching academies provide practical exposure to all tests of the interview. Generally SSB coaching centers are run by ex psychologists and GTO officers of Services Selection Boards. Taking coaching from best SSB training academy will definitely help you to get a career in defence forces as an officer by cracking SSB. If you are little worried about various GTO tests, we recommend you to go to coaching academy and get proper training. We have provided here the best SSB coaching institutes in India and also city wise to help you out in choosing the best of the best so that you can crack SSB interview.
Books for passing SSB interviews
Reading books definitely helps a candidate to pass any examination as books do have ample amount of knowledge and information. For SSB interviews also there are many books available in the market. Here we have tried to mention best books for SSB preparation. Time to time we change the recommended books so that you may get best benefits at the time of purchasing the books. We have also tried our best to provide you these SSB interview books at a special discount from FlipKart.com. If you are a fresher then we recommend you to go through these books as they will provide you an overview of five day SSB procedure. If you are a repeater, then SSB books will give you tips to crack SSB.