Word Association Test WAT practice test
Total Questions
: 60
Max Marks
: 0
Duration
: 30 Minutes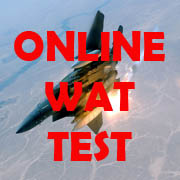 Word Association Test of SSB interview is one of the most important tests for those who want to crack SSB. WAT test consists of total 60 words and for each word candidate will be given thirty seconds time to write a sentence. Here is online WAT practice test for SSB interview aspirants. If you are serious about scoring good marks in WAT test, practice is must. With our WAT online tests, you will stay ahead during the SSB interview.
Detailed Instructions
Leave blank if you want to skip WAT word.
Please write first thought came in your mind after reading the word shown.
Do not hit back or forward buttons of the browser. Test will proceed automatically.