Cavalier India is no doubt a major academy which helps thousands of candidates by providing
SSB coaching
. After successful launch and good success ratio of recommended candidates in SSBs, Cavalier India has emerged as the huge SSB coaching academy with 09 branches all over India. Though the franchisee of Cavalier India do have good infrastructure, faculty and able guides, few of the branches may lack some expertise as compared to few cities branches.
Cavalier India SSB coaching Bangalore branch evaluation
Let us see all Cavalier India's Bangalore SSB coaching branck and their ability to give better SSB coaching.
Cavalier India Bangalore SSB coaching center
Cavalier SSB coaching academy of Bangalore is the oldest and one of the most successful branch of the Cavalier. It may be named as the key for huge success of overall Cavalier academy in India. Cavalier Bangalore SSB branch is located in Kalyannagar of Bangalore city. Cavalier Bangalore provides coaching for SSB interviews, CDS, NDA, PABT and CPO (Central Police Organisation).
SSB - Service Selection Boards interview coaching
Duration: 2 Weeks
Fees: Rs. 8500/-
Batches: Join any day. All seven days open.
Hostel: Rs. 300/- per day (Without lunch)
CDS / NDA (IMA) written exam coaching
Duration: 6 Weeks
Fees: Rs. 13000/-
Batches: Click here.
Hostel: Rs. 300/- per day (Without lunch)
PABT- Pilot Aptitude Battery Test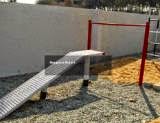 Duration: Friday- 2.30pm to 5.30pm & Saturday - 11.00am to 2.00pm
Fees: Rs. 2,000/-
Batches: Every month 1st Week & Last Week
Hostel: Rs. 300/- per day (Without lunch)
CDS / OTA written exam coaching in Bangalore
Duration: 6 Weeks
Fees: Rs. 11000/-
Batches: Click Here.
Hostel: Rs. Rs. 300/- per day (Without lunch)
Central Police Organisation Examination (CPO) written and interview coaching
Written

Duration: One Month
Fees: Contact nearest branch for details.

Interview

Duration: One Week
Fees: Rs. 2500/-
Address and contact details of Cavalier Bangalore branch
Cavalier Tower
No 702, 7th main, 1st block,
4th cross, HRBR Layout,
Kalyannagar, Bangalore - 560043.
Tel : 080 40930616/ 617/ 618
Mobile : 9886159727
E-mail : cavalierindia.bangalore@yahoo.com
Thus, we consider the Cavalier Bangalore is one of the best SSB coaching academies in Bangalore.