Check out 48th SSC Tech course notification of Indian Army. Read to know about 48th SSC Tech course eligibility criteria, eligible engineering streams, last date of online application submission and how to apply.
48th Short Service Commission Tech course for men is one of the ways to become an officer in the Indian Army.
If you are an engineer and want to join the Army, 48th SSC Tech course is exclusively notified for you.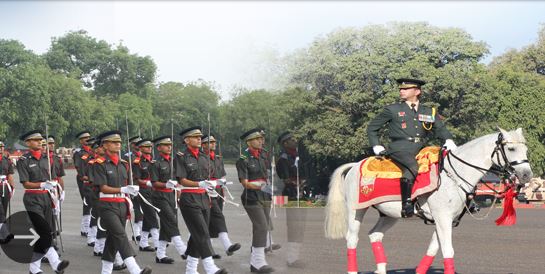 48th SSC Tech Course Eligibility Criteria
Candidates who are fulfilling the following eligibility criteria can apply for Indian Army's 48th SSC Tech course.
Only male applicants can apply for 48th SSC Tech course. For women, 19th SSC Tech women course is offered by the Indian Army.
Applicant age should be between 20 to 27 years as on 01 April 017. That is candidates who are born between 0 January 1988 and 01 January 1998 are eligible to apply for SSC Tech course.
Applicants should have passed Engineering Degree or should be studying in the final year of Engineering Degree.
Final year students who are applying should be able to complete their Engineering by April 2017.
Minimum height of applicant must be 157.5 Cms.
Eligible Engineering Streams And Vacancies For 48th SSC Tech Men Course
Engineering Streams
Equivalent Streams AICTE approved
Vacancies
Civil
Civil Engg, Civil Engg (Structural Engg), Structural Engg.
36
Mechanical
Mechanical Engg, Mechanical (Mechantronics) Engg, Mechanical & Automation Engg
10
Electrical/Electrical & Electronics
Electrical Engg, Electrical Engg (Electronics & Power), Power System Engg, Electrical & Electronics Engg
16
Aeronautical/Aviation/Aerospace/Ballistics/Avionics Aeronautical Engg
Aeronautical Engg
10
Computer Sc & Engg/Computer Technology/Info Tech/M.Sc (Computer Sc)
Computer Engg, Computer Science, Computer Science Engg, Computer Science & Engg, Information Science & Engg
23
Electronics & Telecommunication/Telecommunication/Electronics & Communication/ Satellite Communication
Electronics & Telecommunication Engg, Telecommunication Engg, Electronics & Communication Engg, Electronics & Electrical Communication Engg
22
Electronics /Opto Electronics/Fibre Optics/Micro Electronics & Microwave
Power Electronics & Drives
11
Industrial
Industrial Engg, Industrial Engg & Management, Industrial & Production Engg, Industrial Engg & Mgt, Industrial/Manufacturing
01
Automobile /Workshop Technology
Automobile Engg
02
Metallurgical
Metallurgical Engg, Metallurgy & Material Technology, Metallurgy & Material Engg, Metallurgy & Engg & Material Science, Metallurgy and Explosives
02
Electronics & Instrumentation/Instrumentation
Applied Electronics & Instrumentation Engg, Electronics & Instrumentation Engg, Electronics & Instrumentation Control Engg, Instrumentation Technology
02
Architecture/Building construction Technology
Architecture Engg
03
Food Tech/Bio Tech/Bio Medical Engg
Bio Technology, Medical Electronics
02
Chemical Engg
02
Production Engg
04
Remote Sensing
02
Transportation Engg
01
Laser Tech
01
Total Vacancies of 48th SSC Tech Course
150
How to apply for 48th SSC Tech Men course of Army?
In order to apply for the 48th SSC Tech Men course, first you need to register yourself on www.joinindianarmy.nic.in website and then you have to apply online.
Once you register on the official Army officers recruitment website, you can login and then fill up the online application of 48th SSC Tech men course.
After successfully filling up the application, you will get the option of saving 48th SSC Tech course online application as PDF.
Save as PDF and then take two copies of printout.
Online applications for 48th SSC Tech course will be available from 07th July 2016.
Last date to apply for 48th SSC Tech course is 24th August 2016.
Applicants who are shortlisted by Indian Army will be called for 5 day SSB interview.
Candidates who crack SSB interview will become an officer in the Indian Army.