Check out TES course notification of Indian Army. Studying in 12th class and want to join Indian Army as an engineering officer? Indian Army technical entry scheme is the best way to become an engineering officer. Read to know more about Army TES.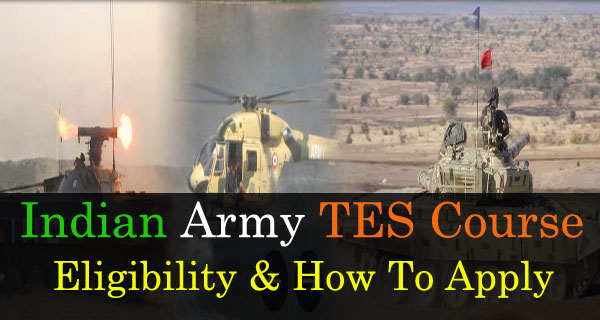 Eligibility Criteria
Who can Apply? Men
Minimum Age Limit : 17 Yrs
Maximum Age Limit : 20 Yrs
Last Date To Apply : 14 Jun 2017
Other Qualifications Required :
Applicant of TES course must be physically fit
TES Indian Army
TES Indian Army course is exclusive for 10+2 students of India. Technical Entry Scheme famous as TES course is one of the best ways to become a technical officer in Indian Army. Indian Army releases TES notification twice in a calendar year. Let us see eligibility criteria and how to apply for TES course of Indian Army.
Eligibility criteria of Indian Army TES course
In order to apply for Indian Army TES course, candidates must fulfill the following eligibility criteria.
Nationality of TES course applicant
A candidate must either be : (i) A citizen of India, or (ii) A subject of Bhutan, or (iii) A subject of Nepal, or (iv) a Tibetan refugee who came over to India before the 1st of January 1962 with the intention of permanently settling in India or (v) a person of Indian origin who has migrated from Pakistan, Burma, Sri Lanka and East African countries of Kenya, Uganda, the United Republic of Tanzania, Zambia, Malawi, Zaire Ethiopia and Vietnam with the intention of permanently settling in India. Provided that a candidate belonging to categories (ii), (iii), (iv) and (v) above, shall be a person in whose favour a certificate of eligibility issued by Govt of India is necessary, may be admitted to the examination provisionally subject to the necessary certificate being given to him by the Govt before declaration of result by SSB/joining training.
Age limit to apply for Indian Army TES course
A candidate must not be below 16½ years and above 19½ years on the first day of the month in which the course is commencing. The date of birth accepted by the office is that entered in the Matriculation or Secondary School Leaving certificate or in the certificate recognised by an Indian University as equivalent to Matriculation or in an extract from a Register of Matriculates maintained by a University which extract must be certified by the proper authority of the University or in the Higher Secondary or an equivalent examination certificate. No other document relating to age will be accepted. The expression Matriculation/ Higher Secondary Examination Certificate in this part of the instruction includes the alternative certificate mentioned above.
Educational Qualification for joining Indian Army through TES
Only those candidates who have passed 10+2 Examination or its equivalent with a minimum aggregate of 70% marks in Physics, Chemistry and Mathematics from recognized education boards are eligible to apply for this entry. Eligibility condition for calculating PCM % of various state /central boards will be based on marks obtained in Class XII only.
Selection process of Indian Army Technical Entry Scheme course officers

Selection process of Indian Army's Technical Entry Scheme is very simple and illustrated here in the simple steps.
Step 1 : TES notification is released by Indian Army.
Step 2 : Check the eligibility criteria and apply online if you are eligible.
Step 3 : Indian Army will call shortlisted candidates for TES SSB interview.
Step 4 : Crack the SSB interview.
Step 5 : Clear the medical exam held by SSB after getting recommended.
Step 6 : Indian Army will release All India merit list for TES course.
Step 7 : If you are in the final merit list report to Officers Training Academy, Gaya on the date specified by the Indian Army.
Step 8 : Complete the TES course training and become an engineering officer in Indian Army. You will get engineering degree too on successful completion of TES training.
Training of TES course
Total training for candidates selected for Technical Entry Scheme of Indian Army is of 5 years.
Basic Military Training
All candidates will have to undergo one year basic military training at Officers Training Academy Gaya.
Phase I Technical Training for TES course
Phase I technical training of TES course is of 3 years duration. The Phase I training is held at CME Pune / MCTE MHOW / MCEME Secunderabad. Phase I training of TES course is also called as Pre Commissioning Training. Candidates will be awarded commission by the Indian Army along with Engineering degree.
Phase II Technical Training
Phase II technical training for TES course candidates will be imparted at CME Pune / MCTE MHOW / MCEME Secunderabad. As the candidates are commissioned in the Indian Army, the phase II training is called as Post Commission Training.
Type of Commission offered for officers recruited through TES course
Indian Government will grant permanent commission to all successful candidates who join the Indian Army through its Technical Entry Scheme TES course.
How to apply for Indian Army TES course
Online application forms of TES course can be filled up in the official website of Indian Army. In the TES course notification of Indian Army, dates for filling up TES application form will be mentioned and also last date to apply will be given. Canddiates need to fill up the applications very carefully as it is very difficult to correct the mistakes made in online application of TES course.
What next after applying for Technical Entry Scheme course?
Many candidates do not know what to do after applying for TES course. If you are serious about joining Indian Army as an engineer, then begin your preparation for SSB interview from today itself. Know each and every test held during TES SSB interview. Then go on and practice for SSB online to check whether your preparation is good or needs improvement.
---