Check Nirav Modi PNB scam details. A whooping 11000 crore scam is reported by PSU Bank PNB in which it has alleged that a scam of around eleven thousand crore scam has come to light.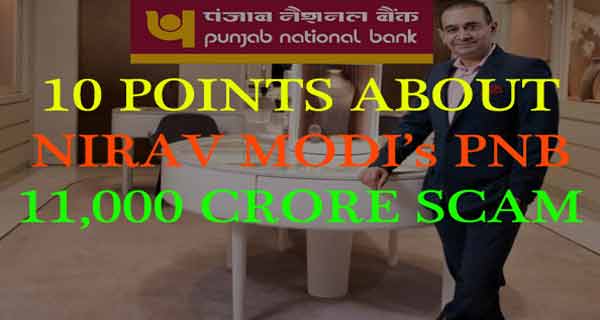 PNB - Nirav Modi Scam | Ten points all should know
Punjab National Bank (PNB) has reported India's one of the biggest scam amounting to appx. 11,000 crore rupees. Here are ten points everyone should know about PNB Nirav Modi scam.
1 | Who is Nirav Modi?
Nirav Modi is an Indian jeweler who has founded Nirav Modi - a global diamond jewelry house in the year 2010. Until the 11,000 crore rupees scam was unearthed by PNB, Nirav Modi was considered one of the great and successful jewelers in India.
2 | What about PNB?
PNB or Punjab National Bank is India's second largest Public Sector Unit (PSU) bank. PNB has reported 230.11 crore as its net profit after taxation for the quarter ending December 2017. Its Gross NPA was reported as 57,519.41 crore rupees in Dec 2017 quarter.
3 | What is the PNB Nirav Modi Scam?
Punjab National Bank has unearthed a mega scam which reported 11,000 crore rupees fraud by Nirav Modi and his companies. It is being assumed that many persons / agencies may be involved to cover up the mega PNB scam till now and the roles of various agencies is being probed now. In the PNB Nirav Modi scam, it has come to light that Nirav Modi and his companies has misused LoU (Letters of Undertaking) issued by PNB.
4 | Any PNB employee involved in the scam?
Till now Punjab National Bank has disclosed that its retired Deputy Manager Gokulnath Shetty who was posted at PNB's Brady House branch (Mumbai) is involved in the India's biggest banking scam. Also a PNB clerk Manoj Kharat is also allegedly involved in the scam.
5 | What is LoU?
LoU stands for Letter of Undertaking. The bank which issues LoU to any company guarantees other bank that it undertakes to pay fixed amount on the date specified by it on the LoU.
6 | How LoUs are misused by Nirav Modi?
Nirav Modi has used the MoUs issued by PNB Brady House branch in Hong Kong. Nirav Modi has used these MoUs in Indian bank branches located in Hong Kong. It is expected that one LoU is used to secure another LoU and so on. The chain continued and more than 150 LoUs were used to secure credit for Nirav Modi's companies Firestar Diamonds, Stellar Diamonds, Find Diamond R US and Solar Exports.
7 | Since when the scam was going on?
As per the PNB report, the 11,000 crore mega scam has been going on since 2011 till January 2018.
8 | Why no one suspected the Nirav Modi PNB Scam?
As Punjab National Bank has not integrated SWIFT with its core banking system, it became easy to hide the scam. Cautionary messages reported in SWIFT were never noticed as they were not reflected in the PNB's core banking system.
9 | Where is Nirav Modi at present?
As it happens in most of the scams, Nirav Modi has left India in the month of January 2018. He is believed to be in Belgium at present.
10 | What next after PNB Nirav Modi Scam?
It is very difficult for Indian government to bring back Nirav Modi to India as he had fled away to Belgium. For PNB, the tough time has started as 11,000 crore rupees is a huge amount and the bank's stock has tanked almost 25% in the last two to three days. RBI has today ordered PNB to pay remaining debts to all other banks immediately. Meanwhile the Government has attached 4500 crore rupee assets of Nirav Modi till now.
At the end for Nirav Modi its a time for celebration and for PNB and its investors, it is a rough time.