Ad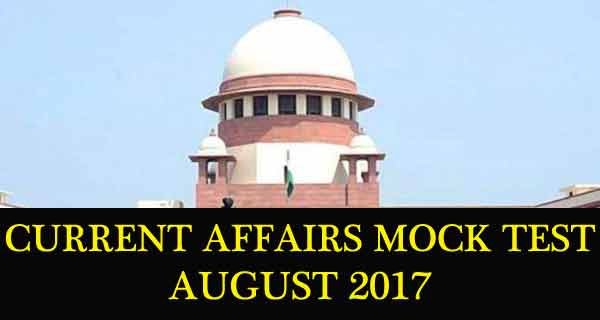 Check August 2017 current affairs mock test for preparing for competitive exams in India here. August Current Affairs practice set has questions varying from triple talaq to right to privacy. Go on and attempt August current affairs mock test for fre
Online mock test of August 2017 current affairs
August 2017 was packed with important current affairs. India has witnessed many great decisions and most devastating scenes in August 2017. Right to privacy and striking down of triple talaq were the two judgments of Supreme Court that have rocked the nation with a wave of security and joy.One had to keep an eye on international current affairs of 2017 August month also to pass written entrance exams in India. Also current affairs are very important to candidates who are about to attend any interview or group discussion.Here in this edition of August 2017 Current Affairs mock test we have brought selected and most important as per the various competitive exams such as CDSE, NDA, IBPS, SSC and RRB exams. Current affairs will keep you ahead of others at all the times. So go on and practice August 2017 current affairs for free of cost here.
Detailed Instructions
Each question carries 3 marks.
One mark will be deducted for each wrong answer.
---