Ad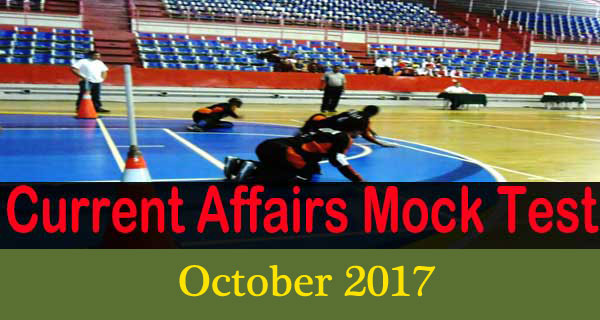 Looking for Current Affairs mock test for free? Online October 2017 current affairs practice set is the best mock test for upcoming entrance exams. Go on and attempt the current affairs mock test for free here.
Current Affairs Mock Test - October 2017 events
We have brought the latest mock test of current affairs for October 2017 events. All aspirants who are about to face any interview or written entrance exam will get good amount of knowledge by appearing this online current affairs mock test.
October 2017 current affairs mock test covers all topics from domestic to international affairs and from agriculture to sports affairs.
Sample Current Affairs Questions - October 2017
Here are few sample questions of the current affairs mock test for October 2017 events for Indian aspirants.


Government has imposed anti-dumping duty on imports of steel wire rods from which country?


Which country has became smallest country to qualify for 2018 FIFA World Cup?


International Day of the Girl Child is observed on ?


World Football federation FIFA has suspended which country's football federation due to undue third-party interference?


Kazuo Ishiguro was awarded 2017 Nobel Prize in which field?


Who has won the Best FIFA Men's player award 2017?


United Nations Day falls on ?


Which pair has won gold medal at the International Shooting Sport Federation World Cup 2017 in the air pistol mixed team event?


Jacinda Ardern was elected as Prime Minister of ?


Who has won the Men's Singles Title in French Open 2017?


FIFA U-17 World Cup was held in which country?


Recently Finance Ministry has made which documentation compulsory for small saving schemes?


Intensified Mission Indradhanush was launched with the aim of ______.


Anna Politkovskaya Award 2017 is conferred to _______?


Who has won ATP title of 2017 in Mens category?


So go on and attempt this online current affairs mock test to improve current affairs knowledge and to test your preparation level.
Detailed Instructions
Each question carries 3 marks.
Negative marking is there. One mark will be deducted for each wrong answer.
---