Ad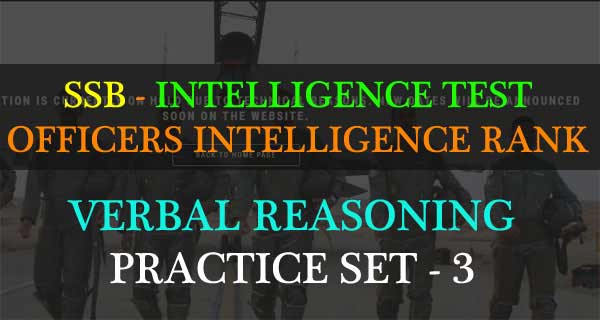 OIR Verbal reasoning mock test of SSB interview. Check out online practice set of OIR verbal reasoning test to prepare for SSB intelligence test.
OIR Verbal Reasoning Practice Set 3
Officer Intelligence Test OIR online practice
set 3 has total 50 questions related to verbal reasoning. SSB aspirants who want to pass OIR test will be benefited by attempting online OIR mock tests. Practice is the only way to pass the intelligence test held on first day of SSB interview.
If you are serious about cracking SSB interview, you must spend good amount of time in solving the OIR practice sets. Verbal reasoning practice set will not only help you in passing the stage I of SSB interview but also in other written exams.
So go on and attempt this online OIR practice set for success.
Detailed Instructions
Each question of SSB OIR practice set carries one mark.
There is no negative marking in the OIR practice set.
---