Looking for SSB interview experiences of candidates who are recommended by interviewing board? Check out success story of Anurag Tripathi, recommended in 14th attempt and learn how to crack the SSB interview.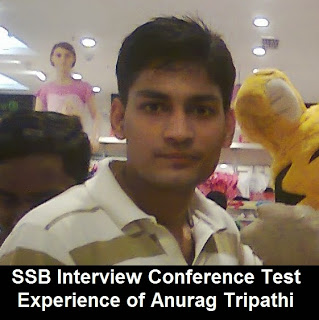 SSB interviews
are very hard to crack as the pattern and tests are designed in such a way that no one will ever come to know about the exact criteria that is looked by the board. So for knowing a brief idea about the SSB interview criteria, one can rely on SSB interview experiences of candidates who have appeared in the interview. We can know how the candidate has impressed SSB psychologists and GTO if a candidate has passed SSB interview. Similarly, if a candidate is conferenced out by SSB board or screened out we can have an insight about mistakes committed by the candidate and be careful while appearing in SSB interviews.
Here in this article, we have provided SSB interview experience of miraculous candidate - Anurag Tripathi who is recommended by SSB board in his 14th attempt. Let us see questions asked by SSB interview president and other psychologists in conference to Mr. Anurag Tripathi.
SSB conference test experience of Anurag Tripathi
I.O
- How was your stay? What are the things you did here?
ME-
Sir, it was very good. I met very good people here, made good friends. I saw sangam, especially after kumbh mela and the whole experiences were good.
I learnt many things from here, discipline & the whole environment was inspiring and it gives many things to learn.
I.O
-You failed so many times (Lifted PIQ & turned it) you gave your first SSB in 2006(NDA) 13 times ? What happened ? Why you weren't able to do it?
ME-
Sir, my context was wrong. I used to have wrong context. Now, since my context is right, answers automatically become right.
Earlier when I used to say I am proud of my country, I did not know what it is. And during my Civil service's coaching, I came to know about so many things. And now when I say I am proud of my country, I know what I am speaking about.
And as my interviewing officer sir told me that I have to improve upon my focus and I need to be more relaxed, as it will make me and my responses more natural and free. But sir, since this is such an important decision of my life. I am not able to relax.
I.O
-You served in private job (Tech Mahindra) and have seen their atmosphere. What do you think, is the difference between army and private firm ?
ME-
Sir, in private there is good work, money is there, family and everything is there, but in Army, life is there, challenge is there. Every day, I will have new things to do, new challenge.
Private is at micro level. Army is at macro level. This is the basic difference between the two.
I.O
-What is there in Army ? What we have to do there. How you have to be there ?
ME-
In Army, we have to deal with men. There used to be many people under me, and if I am their leader, there is large responsibility on my shoulders. Even one decision is very important for so many people's life.
Officer has to be a person whom men should salute not because of the rank… but because of the person who is there inside the uniform... officer has to be like that.
We have to be caring about our men with whom we are dealing with.
I.O
-You know in army we can't be caring to everyone. Sometimes it happens that they do something wrong & you have to take decisions in those situations, what will you do in that situation?
ME-
Sir, Higher interest prevails over lower interest, & so I will do whatever is good for my country.
I.O
- Thankyou. Keep working hard.
ME-
Thankyou sir.
Mr. Aurag Tripathi was recommended by the Allahabad SSB interview board in his 14th attempt. Let us see what happened at the time of result announcement.
After the conference, the officer came and said-
I am senior psychologist and have come for the first time to announce the result.
Today , there is one guy, I will not name particularly, is not getting recommended only because he was adamant and did not listened. I hope that guy understands to whom I am pointing, will come again with better preparation. There are people who get recommended in their 13th, 14th attempt
He announced all the results and said to guess the last candidate. My name was still not announced. I thought mera to chance gaya. There are many people who are better than me, but it could be me too. And he announced my name after putting me under so much pressure at last…!!
He said- Once again clap for this guy. This guy came for the 14th time and I am happy that he came for this time. He came prepared this time and hit the nail on the head. Special congratulations to you, once again.
So come on dear SSB aspirants, let us wish great success to Mr. Anurag Tripathi in his career as an officer in Indian Army. All the best.