Are you an excellent musician and want to become musician officer in Indian Navy? Navy has invited applications for permanent commission musician officers post under the executive branch. Check out notification, how to apply and last date to apply.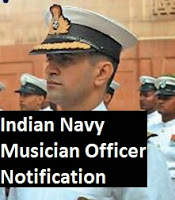 Indian Navy has invited applications from unmarried male candidates for its permanent commission musician officer under Executive branch. Musician officers course will commence at
Indian Naval Academy, Ezhimala
.
Eligibility criteria to become Indian Navy musician officer
Age of applicant should be between 21 to 25 years as on 01st July 2014. That is applicant should be born between 02 july 1993 and 01 July 1989. Candidate should have passed any Bachelor's degree from recognised university and also should have fluency in spoken and written English. Candidate should have Grade 5 certificate or above for Piano from recognised board such as Trinity College of London, associated board of Royal School of Music or London College of Music or Bangalore Conservatory of Music. Applicant of musician officer post in Navy should be able to play a Brass instrument such as Trumpet / Cornet, Horn, Euphonium, Baritone or a woodwind instrument such as Western Fluet, Clarinet, Oboe or any Bow String instrument such as Violin Viola Cello. Fundamental knowledge on Pianoforte is mandatory. in addition to above, applicant should possess one of the diplomas among LRAM, ARCM and ATCL. Preference will be given to those candidates who submit experience in teaching music at registered Music academy / institution. height of applicant should be minium 157 Cms with correlated weight. Eye sight should not be worse than 6/60, 6/60 correctable to 6/6, 6/12 with glass. Also candidate applying for Indian Navy's executive branch permanent commission musician officer post should not have color or night blindness.
How to apply for Indian Navy musician officer posts?
In order to apply for Navy permanent commission musician officer posts, candidate should fill up application for musician officer as prescribed by Indian Navy and send it to the following address.
Directorate of Music, INS Kunjali, Near US Club, Director at South Colaba, Mumbai - 400005.
On the top of application envelope, please do mention as "PC-Musician Batch - Jul 14". Applications should be sent through normal Indian post only. All required qualificational certificates to be attached after getting them attested by gazetted officer. Photograph pasted on the application is to be attested by self.
Selection process
Selection is made in two stages. First stage selection will be done at New Delhi where Preliminary interview will be held. Candidates shortlisted in Preliminary interview at New Delhi will have to undergo
SSB interview
at SSB centers located at Bangalore / Bhopal / Coimbatore followed by medical examination.
Also check out :