Check out national current events of October 2013 here. Day wise current affairs of India are provided for SSB interviews and other competitive exams. Also you can download October 2013 current affairs PDF here.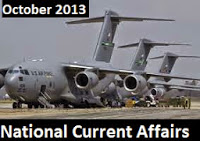 Current affairs segment of
SSB interview
is very important as it provides good amount of assessment of candidate's personality to the interviewing officer. Also it is very helpful in participating in
PPDT
,
group discussion
and
lecturette
.
October 8th
:
Indian Air Force has celebrated its 81st anniversary.
UIDAI bill passed by the Union Cabinet which provided required legal powers and backing to Aadhar project.
3% reservation for disabled persons is made compulsory by the Supreme Court and will be impleted within three months time in both centre and state governement jobs.
IPL fixing probe panel is fixed by the Supreme court headed by Justice Mukul Mudgal.
October 9th :
Bharti Enterprise ended its joint venture with Wal Mart.
October 10th :
ONGC Videsh and Reliance Industries Ltd. joined hands with Venezuela's PdVSA to develop and explore oil blocks in Venezuela.
October 11th :
Phalin cyclone has hit the coastal regions of Andhra Pradesh and Odisha in the evening.
October 12th :
Cyclone Phalin crosses the Odisha coast leaving crores of property damaged. During Phalin cyclone, tides were reported at 8.5 mtrs and winds with 200 kmph speed. But due to early warning from meteorological department and evacuation of villagers and fishermen from coastal areas, human loss reported was very less.
October 13th :
Stampede has took place at Ratnagarh Mata Temple in Datia, Madhya Pradesh leading to death of more than hundred people.
India has refused to sign UN resolution against marriage of children.
Indian Coast Guard has detained MV Seaman Guard Ohio ship for containing arms.
October 14th :
India gets Global Hunger Index as 63 from 65.
October 15th :
60,000 Kms of western ghats were declared as Ecologically Sensitive Area (ESA) by the Environment ministry.
PC Parekh and Aditya Birla booked by CBI in relation to coal scam.
October 16th :
India's estimated growth was expected as 4.7% by the World Bank against its earlier prediction of 6.1% in April 2013.
Railway board got new chairman - Arunendra Kumar.
Great Indian Bustard has been listed in Critically Endangered Birds by the International Union for Conservation of Nature (IUCN).
October 17th :
Nine thousand crore rupees sanctioned for Ladakh tunnel project. 15 Km long tunnel is being constructed at Zozila pass.
October 18th :
Archaeological Survey of India (ASI) starts gold-digging at fort of Raja Rao Ram Baksh Singh in the village Daundiya Kheda, Unnao, Uttar Pradesh.
October 19th :
INDRA 2013, a joint military operations between Indian and Russia started at Mahajan field firing range near India-Pakistan border in Thar desert of Rajasthan. Indo Russian military exercise was organised so as to improve anti-terrorist operations capabilities.
Prime Minister's Office gives statement that the Prime Minister Dr. Manmohan Singh cleared the proposal of allocation to industrialist Kumarmangalam Birla.
October 20th :
PM Dr. Manmohan Singh went to Moscow for 14th annual bilateral summit. Technology transfer, cooperation in biotechnology were the major issues on which both countries agreed. Contract of 3rd and 4th units of Kundakulam nuclear power plant was not signed as Russia doubts about nuclear liability.
October 21st :
Indo-Russian bilateral summit ended on October 21st. Russia has agreed to give access to Glonass, Russian Global Positioning System (GPS) equivalent to US GPS. India become first country to get the access to Russian Glonass.
Free Trade Agreement (FTA) exercise was agreed by India with the customs union of Berlarus, Kazakhstan and Russia to improve economics ties.
BII (Bank of International Indonasia) opens its first branch in India (Mumbai) and became first Indonasian bank branch in India.
Rashid Masood becomes first Rajya Sabha member to be disqualified after the Supreme Court dismissed electroral law protection given to convicted lawmaker to get disqualified.
October 22nd :
1000 MWe Kundakalam Nuclear Power Project gets operational in Tamil Nadu's Tirunelveli district in synchronisation with the Southern power grid.
Lok Sabha Secretary General S Bal Shekhar and RJD's Lalu Prasad Yadav disqualified for 11 years from Lok Sabha after their conviction by the court.
Prime Minister Dr. Manmohan Singh goes to Beijing from Moscow for a three-day visit to China.
October 23rd :
On 23rd October 2013, Indian PM Dr. Manmohan Singh and Chinese counterpart Li Keqiang signs Border Defence Cooperation Agreement (BDCA). BDCA is aimed at preventing cross border firing during any violation at Line of Control.
The extradition treaty comes into effect between India and Bangladesh which facilitates exchange of convicts or undertrials.
The Finance Ministry announces that 14000 crore rupees will be invested in various banks this fiscal as capital.
October 24th :
Manna Dey, famous playback singer pass away in a Bengaluru hospital at the age of 94.
Joint venture between Tata Sons Ltd. and Singapore Airlines gets nod by the Foreign Investment Promotion Board (FIPB) to set us full service airline in India.
Phalin victims get three million Euros assistance by European Commission.
Tata Sikorsky announces the production of India's first 100% indigenous S-92 copter cabin.
October 25th :
Vice-President Hamid Ansari flies for three-nation visit to Peru, Cuba and the UK as part of India's thrust towards Latin-America.
National Commission for Scheduled Tribes submits the Sixth report on implementation of safeguards for the community to Hon'ble President Pranab Mukherjee.
India ranked 101 out of 136 countries on a global gender gap index by Geneva based World Economic Forum.
Floods intensify in Odisha and Andhra Pradesh coastal area.
October 26th :
Uttarakhand gets 250 million dollar by World Bank.
The Indian Air Force gets fourth Boeing C 17 Globemaster III from US.
National Sample Survey Organisation (NSSO) placed Patna on top of Indian cities to have highest unemployment rate among men (11.3%) and women (18.2%).
Ministry of Home Affairs announces that Uttar Pradesh tops in communal riots between January 2010 to March 2013. Madhya Pradesh, Maharashtra and Karnataka follows Uttar Pradesh in communal violence.
October 27th :
Serial blasts took place in Narendra Modi's rally at Patna's Gandhi Maidan.Five people were killed in the blasts. Indian Mujahideen suspected behind the attacks.
Department of Minerals and Mines claims to find a treasure of metals and minerals in Bundelkhand worth 4000 crore.
Andaman & Nicobar and Lakshadweep islands are declared as new hope spots by IUCN (International Union for Conservation of Nature) and world famous oceanographer Mr. Sylvia.
October 28th :
Vice-President Hamid Ansari inaugurates Indian Chamber of Commerce (INCHAM) in Peru.
157 Km Miao-Vijaynagar road project gets approval from the Centre. Through this project, remotely located Vijaynagar in Changlang district of Arunachal Pradesh will be connected by road.
Oil Ministry takes back five gas discoveries made by Reliance Industries Ltd. in the KG-D6 block off the Andhra coast.
RBI lowers GDP forecast to 4.8% for current fiscal.
October 29th :
Government announces Air Marshal Arup Raha to be the next Chief of Air Staff (CAS) (IAF Chief) on December 31st 2013.
India slips to 134th spot in World Bank's ease of doing business list of 189 countries. Singapore retains its first place.
Sensex closes at 3 years high at 21,033.97 points due to foriegn institutional investors buying.
Violence reported at Muzaffarnagar district's Budhana village in Uttar Pradesh. Four people died.
October 31st :
The Supreme Court of India directs States and Centre to form a Civil Services Board (CSB) to regulate the postings of civil servants.
Kannur district of Kerala declared as first zero landless district in India by the Union Minister for Rural Development Jairam Ramesh.
Great Hindi writer and novelist Rajendra Yadav passed away.
Election Commission integrates NOTA (None Of The Above) option as per the Supreme Court ruling.
Download October 2013 national current affairs PDFAlso check out :