Are you a diabetic patient and want to know whether you are eligible to apply for officers posts in Indian Army, Navy and Air Force or not.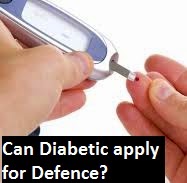 Medical standards required for Indian Armed Forces are of very high standard. Check out whether diabetic candidates can become commissioned officers in Indian Army, Navy or Air Force.
Respected sir/ Ma'am
I am suffering from diabetes? Am i eligible for afcat, CDS, JAG? I am a law student and m looking for ground duty.
Thank You
Can a candidate suffering from diabetic become an officer in Indian Army/Navy/Air Force is a million dollar question. Diabetics is one of the most common diseases in this present world. Diabetics or sugar patients do have the chances of getting heart attack / paralysis or any big illness sooner or later. Hence, one cannot guarantee that the diabetic patient will be physically and mentally fit for his duty as compared to the normal candidates.
So Indian Army, Navy and Air Force do not allow diabetic candidates to join the forces as it will not only harmful for effective functioning of forces but also for individuals who are suffering from diabetic disease. No officer entry of Indian Armed Forces allows diabetic candidates to apply.
It is better for diabetic patients to not apply for the commissioned officers posts or for other ranks in defence forces as it may be harmful for their personal life. There will be rigorous training and at times there may not be enough food and water for long period of time. So all these situations will be bad for the health of diabetic patients.
So we would suggest all diabetic patients to not apply for officers posts and also not to attend
SSB interviews
.