Looking for best dress code for SSB interview? Dress of a candidate is very important to crack SSB interviews. Check out how to impress with your dress in SSB interview.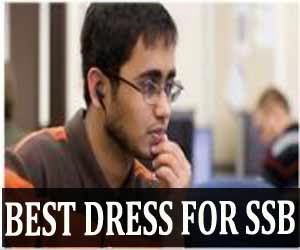 SSB interview
is the interview which tests a candidate's psychology greatly. So every aspect of a candidate represents his qualities and thus one need to give one's best during the 5 day interview.
One of the factors which are looked for in the SSB interview is the dressing sense of a candidate. So following simple guidelines one can represent oneself in a positive way. SSB interview lasts for 5 days and candidates need to carry the following dresses along with them while proceeding for the SSB interview. Two pairs of formal dresses are must for a candidate appearing in the SSB interview. Only one pair of formal dress is sufficient but we suggest all candidates to be in formals while going in and around the Services Selection Board campus. It will make you comfortable in the formals. Keep one pair of formal dress ready for the personal interview always. And after the personal interview you should keep one formal dress for your conference which will be on the fifth day / final day. Candidates should carry one pair of good formal shoes. Buy shoes which are comfortable and cushiony. It is better to wear pointy shoes with laces. Never ever wear casual shoes or semi formal shoes for SSB interview. Two pairs of PT dress are also recommended by the experts. Most of the tests of SSB interview are outdoor and thus you will be asked to come in PT dress. So keeping two pairs of PT dress is essential. Whenever you feel that your PT dress is stinking or dirty, immediately wash it and use the second pair available with you. Always wear neat and clean PT dress. Carry a good pair of PT shoes. White PT shoes are must for attending the SSB interview. So buy a good quality white color PT shoes for appearing in SSB interview tests. Candidates are suggested to carry one pair of nightware to wear in the night while sleeping. Carry a dress in which you can sleep comfortably.
Tips to wear dress during SSB interview
First and foremost thing regarding dressing is to wear neat and pressed dress. You may carry your own press or can avail service available at the selection board. Feel comfortable in whichever dress you wear as it will increase your confidence and thus your performance will be best. Check and recheck all dresses and shoes you are about to carry for the SSB interview. Dress for dining hall is also very important. It is recommended to wear formals to dining hall. Always keep good pair of socks which are not stinky. Personal hygiene is also very important while attending the SSB interview. So here we have learn about best dress code for SSB interview. Go on and get your SSB interview dress ready.