Here are top 5 tips for SSB TAT and PPDT story writing. Check out best ways to write PPDT and TAT stories.
Story writing in Thematic Apperception Test and Picture Perception Description Test of SSB interview is the most important aspect.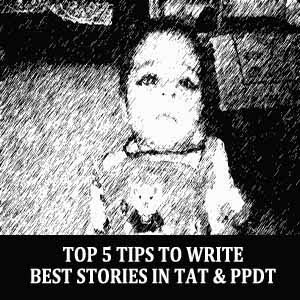 Previously we discussed
tips to pass SSB screening test
. Today we come up with best practices to write stories in
PPDT
and
TAT
.
It is commonly accepted fact that story writing of PPDT and TAT is most tiresome task of
SSB interview
and thought of writing a story raises tremors among the aspirants. But one cannot avoid story writing or cannot underperform in TAT and PPDT tests. So here are best tips to TAT and PPDT story writing.
Creativity pays off in PPDT and TAT story writing
If you are going to attend SSB interview and want to crack it, then you must be little bit creative when you write a story. In PPDT test, you will have only one story whereas in TAT you will have to write story for 12 pictures. After four to five pictures, you tend to loose concentration. But still be little bit creative and you can write few stories related on social issues. Also you may form story around any burning topic. For the last blank picture you will get in Thematic Apperception Test, be prepared with a good story in advance.
Try to write maximum TAT stories
Many candidates may not be able to write more than four to five stories. So try to write more stories in SSB interview. Keep your mind open and be attentive. Analyse the TAT picture and form a story as per your imagination. Don't miss to write your story on the blank picture.
Work on your handwriting
As time given to write the TAT or PPDT story is very less, many aspirants write stories such that they can only understand them. Writing stories with neat handwriting will keep you on the leading edge. So try to keep your handwriting neat and tidy as much as possible.
Practice writing TAT stories
Practice makes man perfect In SSB interview also practice made by you previously will make you perfectly crack the interview. It applies to TAT and PPDT story writing too. To write a good story in the specified time with neat handwriting you need to practice it. Each day spend some time dedicatedly for writing stories on any picture. You may take a picture from any newspaper, movie or any other book.
Be cool and relaxed during TAT story writing
Don't feel writing TAT stories as a burden. You should enjoy writing the Thematic Apperception Test stories. If you feel that you are being tested and to pass TAT you need to write stories, then you will be stressed and stories will not be that creative. So think that you are participating in any story writing competetion.
Thus, we have provided top 5 tips on writing best TAT stories. So go on and start practicing from today.