India is doing its best to help disaster hit Bangladesh in search and rescue operations. Check out contribution of various countries to Nepal after the recent massive earthquake.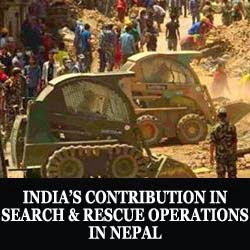 We all know about the recent biggest disaster which literally destroyed Nepal. In this time of need, India stood ahead in extending its support to Nepal by deploying all available resources and that too very quickly.
Here is an overview about the help extended by various countries to help victims of the decade's biggest earthquake. India has deployed 13 military aircraft which include C-17, IL-76 and C-130 large military transport aircraft. Apart from these big transport aircraft, India has deployed 8 MI 17 helicopters and four Advanced Light Helicopter (ALH). Asia's largest country, China which has three times aircraft as compared to India has deployed three IL-76 transport aircraft and 3 MI-17 helicopters to help Nepal. Pakistan has put 4 C-130 Hercules aircraft in Nepal. World's most powerful country, USA is helping Nepal with one C-17 Globmaster III, 4 V-22 Osprey multi-mission tilt rotor aircraft and 1 UH-1 helicopter. United Kingdom is operating 1 C-130 aircraft and 3 Boeing CH-47 Chinhook aircraft. Russia has deployed 2 IL-76 aircraft in search and rescue operations in Nepal. Three CH-46 Griffon helicopters have been deployed by Canada. Sri Lanka and Bangladesh has deployed one C-130 aircraft to help Nepal. Let us hope Nepal recover soon from the disaster and restore its previous glory once again.