Check Meteorology branch notification of Indian Air Force. IAF meteorology officers will be responsible for weather analysis. Read more about IAF meteorology branch notification, salary and eligibility criteria.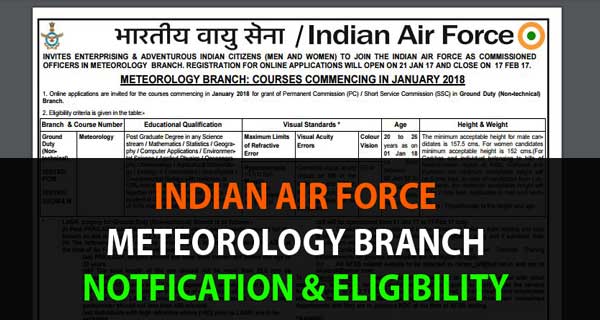 Eligibility Criteria
Who can Apply? Both Men and Women
Minimum Age Limit : 20 Yrs
Maximum Age Limit : 26 Yrs
Last Date To Apply : 17 Feb 2017
Other Qualifications Required :
N/A
Meteorology branch recruitment notification of Indian Air Force
Indian Air Force has a separate branch for weather analysis - an important factor for safe flying. Officers of IAF meteorology branch do have great amount of responsibility on their shoulders while serving in the Indian Air Force. Here is the IAF meteorology branch notification for recruitment of officers with complete eligibility criteria.
IAF Meteorology branch courses
There are two courses offered by the IAF for candidates who want to become a meteorology officers.
Ground Duty (Non technical) 202/18G/PC/M
Ground Duty (Non technical) 202/18G/PC/M is the course exclusive for men only. Permanent commission will be granted to all candidates who joins IAF through this entry.
Ground Duty (Non technical) 202/18G/SSC/M & W
Ground Duty (Non technical) 202/18G/SSC/M & W course is for both men and women. All successful candidates of this course of IAF meteorology branch will be awarded Short Service Commission in the IAF.
Eligibility criteria to apply for Meteorology branch officer posts in IAF
In order to apply for IAF meteorology branch jobs applicants must fulfill the educational, physical and age criteria as per the Government. Here is IAF meteorology branch eligibility criteria.
Educational qualification
All aspirants who want to apply for IAF meteorology jobs should have passed Post Graduation with minimum 50% in any one of the following subjects.
Any Science stream
Mathematics
Statistics
Geography
Computer Applications
Environmental Science
Applied Physics
Oceanography
Meteorology
Agricultural Meteorology
Ecology & Environment
Geo-physics
Environmental Biology
Also candidates must have studied Maths and Physics at graduation level with minimum 55% marks in both the subjects.
Required Visual standards for IAF Meteorology branch
Applicants must fulfill the following minimum visual standards.
Candidates should not have Hypermetropia more than +3.5 D Sph.
Myopia should not be more than -3.5 D Sph.
Candidates with Astigmatism more than +/- 2.5 D Cyl are not eligible to apply for IAF meteorology branch officer posts.
Corrected visual acuity should be 6/6 in the better eye and 6/18 in the worse eye. Wearing of glasses will be compulsory.
Colour vision should be CP-II
Eligible Age limits for IAF Meteorology Branch
Minimum age limit to apply for IAF meteorology branch officer posts is 20 years and the maximum age limit is 26 years as on 01 Jan 2018. Precisely candidate's date of birth should fall between the dates 02 Jan 1992 and 01 Jan 1998.
Height and Weight of applicants
The minimum acceptable height for male candidates is 157.5 cms. For women candidates minimum acceptable height is 152 cms.(For Gorkhas and individual belonging to hills of North-Eastern region of India, Garhwali and Kumaon, the minimum acceptable height will be 5 cms less. In case of candidates from Lakshadweep, the minimum acceptable height will be by 2 cms less. Applicable to men and women).
Applicants should have proportionate weight as per their height and age.
Selection process of IAF Meteorology branch officers
Indian Air Force will hold SSB interview for shortlisted candidates in order to select young and talented candidates for its meteorology branch.
How to apply for IAF Meteorology branch posts
Candidates must fill up the online application form of Indian Air Force meteorology branch officer posts available in the official website of IAF officers recruitment i.e., www.careerairforce.nic.in.
Important dates
Last date to apply : Last date to apply for IAF meteorology branch recruitment is 17 February 2017.
---