Check out best tips to tackle SSB Thematic Apperception Test TAT. Your answers to 12 pictures of TAT will reveal your officer like qualities. Read to know how to write stories for pictures shown in SSB TAT test.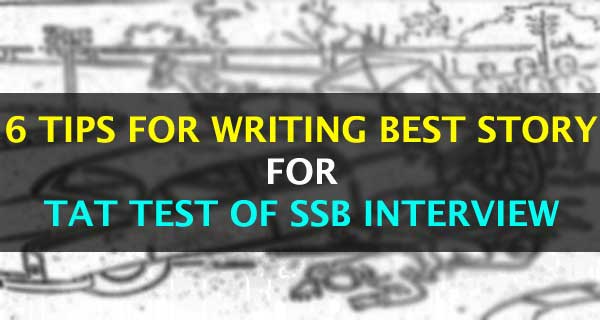 Hello again guys. Just in our previous article of the series, we have seen SSB interview testing procedure, desired OLQs to become an officer, and tips to pass SSB screening test in Stage-1 testing. We strongly recommend you to go through them before you read about how to tackle SSB TAT test pictures.
After the stage 1 testing, the candidates who qualify are screened in and are retained for further testing of SSB interview Stage-2. The first day of Stage-2 consists of Psychological testing series which is held on the 2nd day of SSB. It consists of the tests- TAT, WAT, SRT and SD.
In this article, we will be discussing what SSB TAT – Thematic Apperception Test is and tips to write best stories for SSB TAT pictures.
Just like the picture shown in PPDT, TAT test of SSB interview follows the same procedure. A picture is shown for 30 seconds and 4 minutes are given to write a story on it. The only difference between PPDT and TAT is that, instead of one, there will be 12 pictures shown slide by slide. The 12th slide is the blank one and candidate should write an imaginary story based on it. Also, in TAT, there will not be any group discussion.
Tips to write stories for SSB TAT pictures for screening
When the picture is shown for initial 30 seconds, observe carefully the following points from the picture:
Number of characters
Their Age and gender
Their relation
What is going on
Set a theme for your story
Future probable actions
Observe these details and jot down these in the answer booklet simultaneously. No extra time will be given to jot down the details, unlike PPDT. You have to achieve this in the next 30 seconds.
As you jot the details while observing the pictures, elaborate the observations to form a meaningful positive story in 200-250 words spanning over 2-3 paragraphs for the next four minutes.
The 1st paragraph describes 'What has happened'.
The 2nd paragraph describes 'What is going on' and 'Probable Future Actions'.
In the final paragraph, write a positive outcome of your story.
This is the same as the PPDT but here, pressure on the candidate is increased by placing multiple pictures back to back and allotting a time limit to it.
Sample SSB TAT Picture
Here is a sample picture that is shown as part of SSB Thematic Apperception Test TAT.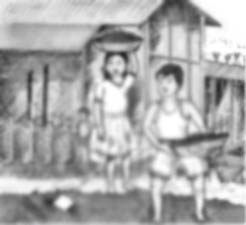 There will be 11 pictures resembling to the above sample SSB TAT picture. Last one will be a blank picture. So only through practice of TAT pictures will keep you ahead in the SSB interview.
Simple ways to write best TAT stories for pictures shown in SSB interview
Therefore, to excel in writing SSB TAT stories for pictures shown during the test, you must follow few simple tips to impress the SSB testing officers.
Practice SSB TAT story writing as much as possible. Initially, you would take some time but with practice, you can achieve it well within 4 minutes and 30 seconds.
While practicing, observe the picture and speak out loud the 7 observations you can gather. This will help you to increase your speed and it will also be retained in the memory for a longer time. Therefore, you can skip the jotting down part of details.
Always be cool. You know there will be pressure while writing. Also, there will be a time limit. You know it! So, there's no need to panic. Stay calm and composed because you know your opponent here.
Utilise the full 30 seconds to observe and make a theme. Do not even touch the pen and paper during those 30 seconds. Even if you got an idea, revisit it so that you are showing your OLQs through the story.
If you couldn't complete the story writing within next 4 minutes, skip the picture and move on to the next picture so that you do not miss on the subsequent pictures.
Now for the last picture, a blank slide is shown. In this slide, take the theme from the preceding picture and elaborate the previous story. Else, you can choose a theme that matches with the previous theme to make the story look more natural. You can also write about your dreams and how hard you are working to achieve it, making yourself the hero of the story.
This was the essential tips on how to tackle TAT in the SSB interview. The most undocumented tip in every article is the need to practice. The more you practice, the better you become.
Also read:
How to write story for TAT picture in SSB interview