Check out key initiatives of Vodafone to make Delhiites life as super life. Check out Vodafone's air-purifying bus shelter and free wi-fi initiatives across Delhi NCR region.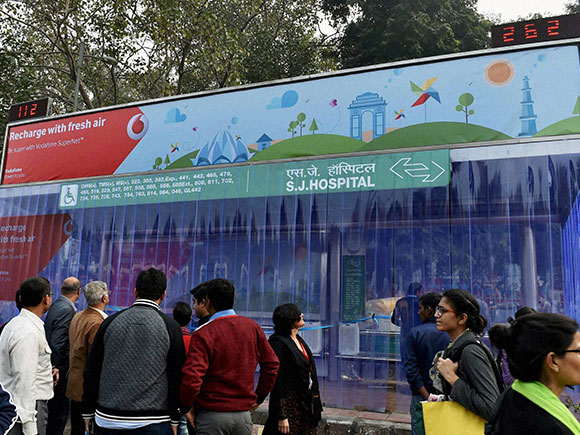 Living a life in normal way is very boring. But few initiatives can make transform normal life into a super life. That too if you are living in India's capital city i.e., Delhi, then you must have a super life to enjoy the lifestyle of Delhi to the fullest. Incidentally Vodafone has taken few less known super initiatives to make Delhiites life as super life. Let us have a look at the initiatives taken by Vodafone towards making Delhi life as a super life.
Vodafone and the Start-up revolution
Helping out start-ups is the coolest initiative of Vodafone's super initiatives. Vodafone has been helping the many start-ups which include famous Oyo and Zomato start-ups which have already made their name in the public. Vodafone is providing products to the start-ups up to the tune of whooping 2,00,000/- to give a push to the young and aspiring minds. One can imagine the positive impact of the Vodafone's super initiative of helping out start-ups.
Vodafone's Free Wi-Fi Zones in Delhi
In this modern world who don't want a free Wi-Fi? Vodafone's next biggest super initiative is providing free Wi-Fi to the Delhiites. Presently more than 120 hotspots are being operated by the Vodafone which are offering free internet service to the Delhiites. Free Wi-Fi hotspots of Vodafone are available at Delhi's prime locations such as Indira Gandhi International airport, DLF Mall of India and Fortis Hospital etc. Also Vodafone is offering free internet in major Delhi market places such as Delhi Haat and Khan Market. Imagine you have run out of mobile data and need internet access urgently to book a cab back to home or want to find a shop in the vicinity. Next time when you are accessing free Wi-Fi in Delhi, don't forget to recollect the super initiative of Vodafone.
Strongest Network and Strongest Customer Base
Having a mobile has become a basic necessity these days and also to have good network connectivity has became essential to live a super life. Vodafone has a great network coverage across Delhi NCR region to make Delhiites life as super life. Seamless network coverage of Vodafone is essential in living a super life in Delhi where you don't want to feel lonely or disconnected due to loss of network signal. Also it is very important for businessmen and entrepreneurs to be always available on phone to receive important calls from clients and investors. More than 1.2 crore Delhiites trust Vodafone for good network coverage and best internet speed.
Vodafone's initiative for fighting air pollution in Delhi
Air pollution is one of the greatest enemies of Delhiites which is slowly jeopardizing the health of Delhiites. Vodafone has created the first air-purifying bus shelter in Delhi so that the Delhiites who are waiting for the buses may breath clean air. Vodafone has been successful in making Delhiites life as super life by providing the air-purifying shelters. One can breath fresh air free from pollution at Vodafone's air-purifying bus shelter at Safdarjung hospital. Basically Vodafone's air-purifying bus shelter has plastic curtains which are transparent and have three industrial standard air purifiers to clean the air. One can experience the clean air while waiting for one's next bus or cab by sitting in the Safdarjung's Vodafone bus shelter. Location of Vodafone's air-purifying bus shelter is very vital as Safdarjung hospital bus stop has majority commuters who come to visit the hospital for medical treatment. Thus, Vodafone's air-purifying bus shelter at Safdarjung hospital is a boon not only for Delhiites but also for all Indians who come to Safdarjung / AIIMS for treatment.
With these key super initiatives, Vodafone is definitely making Delhiites lives as super life.