Passed CDS exam II 2013 and looking for IMA 137 SSB dates? Indian Army has published interview dates of IMA 137 course for Allahabad, Bhopal and Bangalore SSB boards. Check out shortlisted candidate list and SSB dates of IMA 137 course here.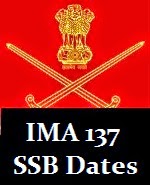 UPSC has held CDS exam II 2013 for all graduates in India who want to become officers in Indian Armed Forces. More than three lakh candidates have appeared in the exam and few thousand candidates have passed the CDS written exam.
Combined Defence Services Examination II 2013 results have been published in this month by UPSC. IAF has released 196 Flying Pilot branch AFSB dates recently. Today Indian Army has updated 137 IMA SSB centre allotment list for all shortlisted candidates.
Soon IMA 137 SSB interview dates of Allahabad, Bhopal and Bangalore centres will be published by Indian Army within 15 to 20 days.
There are total 4307 candidates shortlisted for SSB interviews for 137 IMA course.
SSB interview dates
Total 2157 candidates will be appearing in Allahabad SSB board. 1300 candidates will appear in SSB interviews in Bhopal centre. Rest 850 candidates will appear before Bangalore SSB board for 137 IMA course SSB interviews.
Allahabad SSB dates
Bangalore SSB dates
Bhopal SSB dates
Also check out