Facing AFCAT online application errors and looking for solutions. Check out errors faced during AFCAT online application and solutions.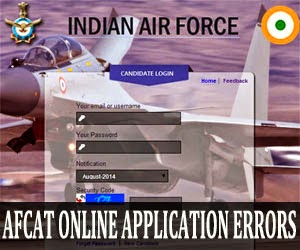 Applying for AFCAT exam online has become very tiresome as every submission fails with invalid data message.
As we got numerous requests on suggesting solution to various errors by
AFCAT
aspirants during online form submission, we tried to submit an application. During the entire process, we also faced many errors. It took almost 14 to 15 hours till we successfully submitted our AFCAT 2 2014 online application form.
Problems faced during AFCAT 2 2014 candidate registration
First of all we had to register for AFCAT 2/2014 exam online. For that we browsed through IAF's official website and then we clicked on "Candidate Login" link. When we tried to register our email ID, then we were greeted by an error message saying "submission failed due to invalid data". We tried for two more email IDs. But all our efforts were in vain as each time we submit the AFCAT registration details, we were shown the same error. When we tried many times, the IAF website started to say that the email ID has already been registered.
Here is the video that we captured during the AFCAT online form submission.
Then we thought of using "Forgot Password" option and there also we got error saying that "Internal Server Error" or "Security Breach" etc. We left as it is for few hours. After few hours, we again tried to reset the password using "Forgot Password" link. Then we got the message that the password has been sent to the registered email ID.
Sounded sweet and we were happy as if we have won the world cup. For an aspirant who is eager to submit AFCAT application and could not do it due to errors and finally getting the message that the password has been sent is indeed a moment of winning world cup!
We checked up our email ID and we saw the mail from AFCAT cell. But this was just the beginning and we were not aware of mammoth amount of stress and frustration which was ahead.
However, we logged in using the email ID and password. And without much fuss, we were able to login to the AFCAT online form submission application.
There we can see Part 2, 3, 4 and 5 of AFCAT application form. We filled up AFCAT part 2 and when we submitted it, then once again error message appeared saying that invalid data. After two to three attempts, finally we reached to AFCAT part 3. Here also after filling up all the required details, we got four to five times same error. But somehow, we managed to proceed for part 4. And similarly, we reached part 5 of AFACT application form.
When we tried to submit final application i.e., AFCAT part 5 form, error message appeared saying "Internal server error".
We log out from AFCAT candidate login and once again logged in to IAF AFCAT online application portal. There this time we saw a message that our application form has been submitted.
Thank god, now my application form has got submitted successfully.
Indian Air Force website is facing lot of problems related to online applications since its introduction. Hope authorities will understand the importance and try to resolve it soon. We have formally written a feedback on errors being faced by the candidates and requested them to sort out the issue soon.
Till then we have to face the challenge.
If you are facing problems, do forward your complete information to webmaster@ssbinterviewtips.in. We will try to submit your application form and we will email you once your application form gets submitted. But note that we are offering this for today only. From tomorrow onwards, IAF's server will be little bit over loaded.
Also readHow to prepare for AFCATBest AFCAT booksAFCAT Exam PatternEKT exam of AFCAT