Online registration of AFCAT 1 2018 exam is hit by a technical glitch. Check out when AFCAT 2018 exam registration will open and where to apply online for AFCAT exam.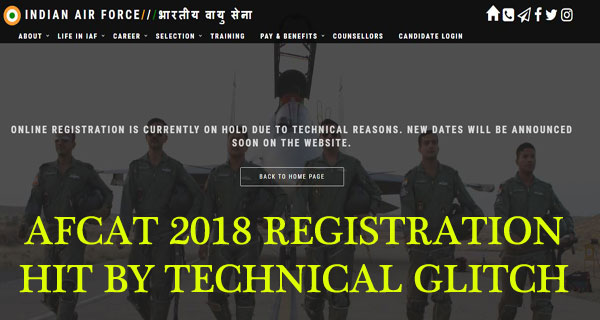 AFCAT 2018 online registration
Candidates need to do online registration of AFCAT exam through official website of Indian Air Force. This time, CDAC has developed online registration application for AFCAT exam online registration. Also CDAC has developed an application for online registration for Airmen exam.
Where to apply online for AFCAT 2018 exam?
This time, Indian Air Force has asked aspirants not to apply through its official website i.e., www.careerairforce.nic.in but through a new website that is https://afcat.cdac.in or https://careerairforce.cdac.in. So candidates who want to apply for AFCAT exam have to register themselves in the new website.
Technical Problem in AFCAT online registration
Online AFCAT registration module developed by the CDAC has failed before it's first take off due to technical glitch. Indian Air Force's AFCAT online registration process stalled due to the glitch and thus many aspirants who want to apply for AFCAT 2018 exam are very disappointed.
Probable reason for suspending AFCAT online registration
As we can see that the new website url that is given by the Indian Air Force has the same information as the original Indian Air Force website, it is clear that the Indian Air Force's website is being redesigned and upgraded by CDAC. It seems that the IAF hastily took the decision to try out new platform for online AFCAT 2018 exam registration which has costed it dear.
When will be the AFCAT registration begin?
It may take upto a week for technical glitch of the AFCAT registration. Indian Air Force will change the last date to apply for AFCAT exam and will notify all aspirants.