AFCAT 1 2018 exam was scheduled to be held on today i.e., 25 February 2018. To the surprise of all in many centers, the AFCAT exam has been canceled due to a technical glitch. Even AFCAT 1 2018 question paper was not distributed as CDAC has failed to succ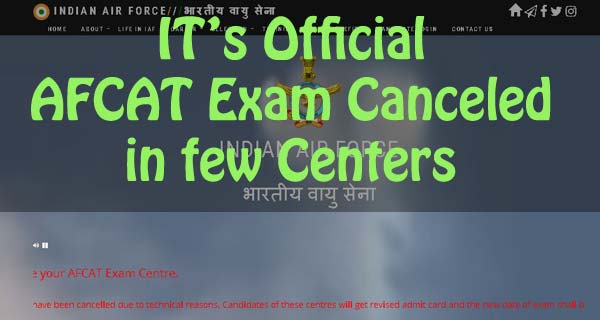 IAF once again hit by technical glitch - AFCAT 1 2018 exam canceled in many centers
Indian Air Force has hit by one of the biggest technical glitches in the history of IAF. AFCAT exam was canceled in many centers due to technical reasons.
We would like to remind you that for the first time, IAF roped in CDAC to conduct the online AFCAT 1 2018 exam in India. From the beginning itself, the tie-up was a mess due to technical glitches. Almost on every day, the online AFCAT application was halted for few hours due to either technical problem or due to maintenance.
Now many candidates are frustrated as most of the aspirants have traveled hundreds of kilometers to appear in the examination and after all these efforts, the IAF and CDAC have canceled the exam in few centers.
AFCAT Centres where AFCAT 1 2018 exam has been delayed/canceled
| AFCAT Centre | Status of AFCAT 1 2018 Exam |
| --- | --- |
| Ghaziabad | AFCAT exam delayed |
| Gurgaon | Canceled |
| Bangalore | AFCAT 1 2018 exam is going on as per plan |
| Agra | Being Conducted |
| Mumbai | One shift canceled |
| Meerut | First shift canceled |
| Delhi | AFCAT exam canceled due to technical glitch |
Still, we are trying to update the status of other AFCAT centres where AFCAT 1 2018 exam is being held by the Indian Air Force.
If you are appearing for AFCAT 1 2018 exam, please update the status in the comment box.
Hope IAF will be careful in conducting the online AFCAT exam in future.
Also check out: Discuss AFCAT 1 2018 question paper