About to appear in AFCAT exam and want to know about EKT Engineering Knowledge Test? Check out sample EKT questions, syllabus and importance of EKT test in qualifying AFCAT exam.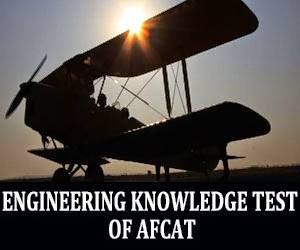 AFCAT exam
is the entrance exam held by IAF for shortlisting the candidates for
SSB interviews
. All candidates who qualify in the AFCAT exam will become commissioned officers in Indian Air Force.
In SSB interview, main aspect which is evaluated by the officers is the personality of a candidate. SSB board does not test a candidate's engineering skills by large. Thus, recent study has proved that though the SSB has been recommending the right attitude candidates for commissioned officers but the professional skill levels sometimes went missing. To overcome this, IAF has introduced Engineering Knowledge Test (EKT) from AFCAT 2/2014 onwards.
EKT will test basic engineering knowledge of candidates who have applied for technical branch of IAF. Thus, candidates will be shortlisted based on their performance in EKT and AFCAT exam.
Many experts feel that the introduction of Engineering Knowledge Test has come at right time as IAF needs to compete with other leading countries with the day to day modernisation. EKT of AFCAT exam will prove as a boon for IAF's future.
AFCAT Engineering Knowledge Test Syllabus
There will be three different EKT tests for candidates based on their engineering stream. EKT test is categorised into Computer Science Engineering, Electrical and Electronics Engineering and Mechanical Engineering. All the three streams of EKT test does have different syllabus as given under.
So candidates who want to become technical officers should start preparing their engineering syllabus too.
EKT Sample Question Papers of AFCAT
EKT question paper will consist of 50 multiple choice questions. Each question of EKT question paper will carry three marks. Thus total marks a candidate can score in EKT of AFCAT is 150 marks. There is negative marking in this engineering knowledge test. Candidate will loose one mark each for a wrong answer. Here, we have provided sample EKT question papers.