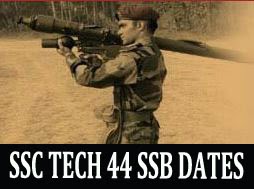 SSC Tech 44 notification
was released by Indian Army and invited applications from engineering graduates.
Today Army has officially published SSC Tech 44 cut off and center allotment list for Allahabad, Bangalore and Bhopal selection centers.
SSC Tech 44 course cut off marks is set as 64% for first six semesters.
SSC Tech 44 SSB dates
SSC Tech 44 course SSB dates are still to be announced by the Army. Only SSB selection centre list for shortlisted candidates has been released. We will update
SSC Tech 44 SSB dates
as soon as possible.
SSC Tech 44 Bhopal SSB dates
SSC Tech 44 Allahabad dates
SSC Tech 44 Bangalore SSB selection center dates
SSC Tech 44 center allotment list
SER NO ROLL NO NAME OF CANDIDATE DOB PLACE CENTRE ALLOTTED
1 500008 Tanmoy Biswas 01/10/1991 DHANBAD ALLAHABAD
2 500009 SAHIL KESRI 22/09/1991 AMBALA ALLAHABAD
3 500011 Debabrata Pattanayak 10/05/1992 Mayurbhanj BHOPAL
4 500012 Deep Ghosh 24/06/1989 Raipur BHOPAL
5 500013 Daksh Dubey 24/09/1993 Bheemnagar ALLAHABAD
6 500016 SUMIT KUMAR 15/07/1991 DHANBAD ALLAHABAD
7 500019 SHUBHAM WALIA 05/09/1992 CHANDIGARH ALLAHABAD
8 500021 ASHISH TIWARI 08/05/1993 KANPUR ALLAHABAD
9 500022 PRAVEEN KUMAR V 26/03/1992 ERODE BANGALORE
10 500023 AKHIL S 22/04/1992 ERNAKULAM BANGALORE
11 500026 ASHOK KUMAR 10/01/1993 JHUNUJHUNU BHOPAL
12 500027 Monil Sharma 04/06/1990 Dehradun ALLAHABAD
13 500030 Sarbjit Singh 12/10/1988 Chandigarh ALLAHABAD
14 500031 vipin kumar 15/07/1993 bulandshahr ALLAHABAD
15 500032 P B KIRANRAJ 29/03/1991 DHARWAD BANGALORE
16 500034 RAVI YERGATLA 03/06/1992 NIZAMABAD ALLAHABAD
17 500039 Sumeet Pradhan 16/10/1992 Khurdha BHOPAL
18 500040 Vimal Kumar Sharma 21/01/1992 new delhi ALLAHABAD
19 500041 SATYAJEET 02/06/1990 BHIWANI ALLAHABAD
20 500042 RAVI KUMAR BABRA 14/11/1991 BHOPAL ALLAHABAD
21 500045 MASIREDDY RAHUL 06/06/1993 NALGONDA ALLAHABAD
22 500046 SivaramanS 16/04/1992 Kanchipuram BANGALORE
23 500047 ESWARAN 07/02/1991 IDUKKI BANGALORE
24 500048 CHANDANKUMARSINGH 10/02/1992 CHATRA ALLAHABAD
25 500049 RAVINDRA SINGH 05/09/1992 AGRA BHOPAL
26 500051 METTA LAXMAN ANIL KUMAR 06/08/1993 Visakhapatnam BHOPAL
27 500052 GYAN SAGAR 18/01/1992 GANDHINAGAR BHOPAL
28 500053 DIGANT CHANDRA 25/03/1989 LUCKNOW ALLAHABAD
29 500057 Abhay Thakur 06/09/1992 mandi ALLAHABAD
30 500060 Mittinpreet Singh Nayyar 28/08/1993 Amritsr ALLAHABAD
31 500063 Sumit Piplani 08/01/1992 Chennai BANGALORE
32 500064 GANAPATHY R 24/05/1991 VILLUPURAM BANGALORE
33 500065 VIKAS 25/07/1992 BHIWANI ALLAHABAD
34 500066 Navjot Singh 10/08/1992 Gurdaspur BHOPAL
35 500067 NIKHIL KUMAR PANDEY 15/08/1989 delhi ALLAHABAD
36 500068 MADASU MANOJ VERMA 22/05/1992 ANANTAPUR ALLAHABAD
37 500071 Vishal K R 13/09/1990 Thrissur BANGALORE
38 500072 manish dadhich 05/05/1988 sri ganganagar BHOPAL
39 500073 MD SHADAAB 30/11/1991 JAMNAGAR BHOPAL
40 500074 SHUBHANKER SINGH 06/12/1990 MORADABAD ALLAHABAD
41 500075 ANKUR 10/05/1993 OUTER ALLAHABAD
42 500078 PRABAKARAN D 12/05/1990 DHARMAPURI BANGALORE
43 500079 RAKSHITH T 14/04/1993 Dakshina Kannada BANGALORE
44 500081 MAHAMED HASAN SHAIK 31/03/1993 NELLORE BHOPAL
45 500082 Sandeep Negi 05/02/1993 PO IIP Mohkampur ALLAHABAD
46 500083 Md Zishan Khan 10/03/1991 Durg BHOPAL
47 500084 MAMOON RASHID 10/11/1989 KANCHEEPURAM BANGALORE
48 500085 supreeth s kumar 07/11/1992 mysore BANGALORE
49 500086 Gangisetti chandra sekhar naidu 11/12/1991 visakhapatnam BHOPAL
50 500091 M Paranthaman 20/03/1990 Kancheepuram BANGALORE
51 500092 SOURABH ROY 03/10/1992 EAST SINGHBHUM ALLAHABAD
52 500094 Karthik R T 02/03/1993 Thiruvallur BANGALORE
53 500096 Tarun kumar 27/07/1992 Patiala ALLAHABAD
54 500098 C SELVA KUMAR 15/11/1992 TIRUNELVELI BANGALORE
55 500099 ARGHO CHAKRABORTY 05/10/1991 KOLKATA ALLAHABAD
56 500101 Arvind Sorout 10/01/1992 Palwal BHOPAL
57 500104 PRAVEEN JEYARAJ A 21/07/1993 DINDIGUL, BANGALORE
58 500105 AMBADIPUDI VIJAY KUMAR 12/09/1991 RAIPUR BHOPAL
59 500107 YADHU KRISHNAN J 13/04/1992 ERNAKULAM BANGALORE
60 500108 SUNIL KUMAR A 04/04/1993 THE NILGIRIS BANGALORE
61 500110 PRASANT KUMAR 06/10/1990 GUMLA ALLAHABAD
62 500111 AGNIBHA CHAKRABORTY 10/10/1992 SOUTH 24 PARGANAS ALLAHABAD
63 500112 Kunal Verma 18/01/1992 Udaipur BHOPAL
64 500113 anshuman kumar 10/07/1993 fatehpur ALLAHABAD
65 500114 RAHUL YADAV 05/07/1992 SILVASSA BHOPAL
66 500116 maria jebaraj j 02/10/1990 coimbatore BANGALORE
67 500118 Davinder kumar 30/10/1991 Pathankot ALLAHABAD
68 500119 NASEEB SINGH GILL 05/03/1991 ROHTAK BHOPAL
69 500120 Rachamallu Sai Lokesh 18/07/1993 Guntur BHOPAL
70 500121 ATHUL S ANAND 25/05/1991 KANNUR BANGALORE
71 500122 LATCHIREDDI CHINNAM NAIDU 10/06/1993 VIZIANAGARAM ALLAHABAD
72 500123 Ashish Rampal 17/04/1990 CHANDIGARH ALLAHABAD
73 500126 TUSHAR 14/06/1990 BAREILLY ALLAHABAD
74 500128 AJAY PRATAP SINGH CHAUHAN 27/02/1992 LUCKNOW ALLAHABAD
75 500131 lalit mohan joshi 03/08/1992 BAREILLY ALLAHABAD
76 500132 PRASHANT KUMAR JHA 22/10/1991 DELHI ALLAHABAD
77 500133 Abhinav Anand 08/10/1990 Patna ALLAHABAD
78 500134 PARDEEP 05/09/1991 JIND ALLAHABAD
79 500138 sanjay singh 28/03/1992 delhi ALLAHABAD
80 500140 AAKASH SINHA 25/12/1992 GWALIOR BHOPAL
81 500141 chandan kumar 04/06/1988 patna ALLAHABAD
82 500142 RAHUL YADAV 06/11/1994 KANPUR ALLAHABAD
83 500143 jitendra kumar shivhare 04/03/1992 sheopur BHOPAL
84 500144 Hitendra singh 11/03/1991 mathura BHOPAL
85 500145 ROHIT PURANIK 03/10/1992 RATLAM BHOPAL
86 500146 HARMOHAN SINGH 01/01/1992 PUNE BHOPAL
87 500147 Parminder singh 06/06/1992 NEW DELHI ALLAHABAD
88 500148 Gaurav Thakur 21/02/1993 Bilaspur ALLAHABAD
89 500150 PIYAL SAHA 13/03/1991 PURBA MEDINIPUR ALLAHABAD
90 500151 PANKAJ KUMAR SINGH 12/02/1993 NEW DELHI ALLAHABAD
91 500153 THULASIKUMAR T N 20/12/1992 TIRUVALLUR DISTRICT BANGALORE
92 500154 gokul singh chand 15/08/1992 north west ALLAHABAD
93 500157 ARUN MOZHI G 05/06/1992 MADURAI BANGALORE
94 500158 KAVINRAJ 05/07/1993 NAMAKKAL BANGALORE
95 500164 NIGAM SOUMYA RANJAN NAYAK 29/05/1992 KHURDA BHOPAL
96 500165 RAHUL GAUTAM 03/06/1991 RAMPUR ALLAHABAD
97 500167 ashish kumar 25/12/1990 Kangra ALLAHABAD
98 500168 VAIBHAV YADAV 26/01/1991 KANPUR ALLAHABAD
99 500169 Tarun 22/09/1992 Chandigarh ALLAHABAD
100 500170 PRAVEEN KUMAR JAISWAL 13/01/1993 MUNGER ALLAHABAD