Applied for TGC 120 course and looking for SSB dates? Indian Army has published TGC 120 SSB dates of Allahabad SSB centre. Check out SSB interview dates here.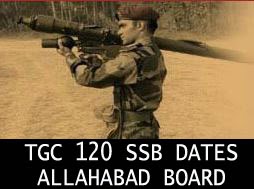 SSB interview dates of TGC 120 Allahabad selection centre
Indian Army has published SSB dates for those candidates who applied for TGC 120 course after scrutinising the applications. Here is the list of all candidates who have to appear at Allahabad SSB board for
SSB interview
.
10830 500028 TOAPLLE RAMA SUDHEER 27-Aug-93 03-Nov-14
10831 500030 ALOK KUMAR SINHA 15-Feb-92 03-Nov-14
10832 500043 ANUJ KUMAR CHAUHAN 06-Feb-93 03-Nov-14
10833 500049 UTKARSH SHARMA 27-Dec-92 03-Nov-14
10834 500072 SUMAN SAURABH 06-Feb-93 03-Nov-14
10835 500082 NIPUN SINGHAL 14-Feb-93 03-Nov-14
10836 500096 PRABHAKAR SONY 10-Apr-91 03-Nov-14
10837 500117 ASHISH GOYAL 20-Jun-92 03-Nov-14
10838 500136 HARSHVARDHAN KUMAR BHARTI 16-Feb-92 03-Nov-14
10839 500141 DEEPAKKUMARBARAL 22-Jun-92 03-Nov-14
10840 500197 ARUN KUMAR 21-Feb-93 03-Nov-14
10841 500209 SAJAL PAUL 22-Feb-92 03-Nov-14
10842 500324 PRASHANT GUPTA 03-Oct-91 03-Nov-14
10843 500416 DARSHAN KUMAR 17-Jun-92 03-Nov-14
10844 500497 RAAJ SHARMA 12-Sep-93 03-Nov-14
10845 500557 AKSHAY SHARMA 02-Oct-91 03-Nov-14
10846 500558 PRASHANT SHARMA 04-Jul-92 03-Nov-14
10847 500581 VINOD KUMAR 01-Jan-93 03-Nov-14
10848 500597 ASHWANI KUMAR TRIPATHI 10-Oct-91 03-Nov-14
10849 500688 PANKAJ KUMAR 26-Sep-93 03-Nov-14
10850 500694 MANISH KUMAR 31-Dec-92 03-Nov-14
10851 500714 MOHIT KUMAR 09-Oct-92 03-Nov-14
10852 500723 ANUP KUMAR GUPTA 26-Apr-91 03-Nov-14
10853 500737 PARUCHURI KARTHIK 27-Oct-92 03-Nov-14
10854 500789 ABHISHEK BARNWAL 10-Oct-91 03-Nov-14
10855 500837 ASIT KUMAR SAHU 20-Apr-91 03-Nov-14
10856 500905 KUMAR MOHIT 28-Feb-92 03-Nov-14
10857 500923 ABHAY GARHIA 02-Jul-92 03-Nov-14
10858 500954 TUSHAR SHARMA 13-Jun-93 03-Nov-14
10859 500986 GANESH VARANASI 21-Jun-92 03-Nov-14
10860 501047 AISHVARYA VARDHAN 12-Oct-92 03-Nov-14
10861 501068 ADARSH KUMAR MISHRA 28-Apr-93 03-Nov-14
10862 501078 RAVPREET SINGH 29-Dec-92 03-Nov-14
10863 501108 ALOK KUMAR SINGH 01-Jul-92 03-Nov-14
10864 501126 VINAY CHAUDHARY 18-Feb-93 03-Nov-14
10865 501133 SAURABH TYAGI 10-Jun-93 03-Nov-14
10866 501135 SOURABH 08-Apr-91 03-Nov-14
10867 501159 ANSHUMAN MISHRA 05-Jul-92 03-Nov-14
10868 501188 SINGH SONUKUMARDEEPAK SUDHIRKUMAR 18-Jun-92 03-Nov-14
10869 501272 NALLA CHENNAKESAVARAO 15-Apr-91 03-Nov-14
10870 501302 MITTINPREET SINGH NAYYAR 28-Aug-93 03-Nov-14
10871 501309 SOURAV BHATTACHARJEE 10-Feb-93 03-Nov-14
10872 501404 SHIVAM GUPTA 15-Apr-91 03-Nov-14
10873 501423 AKHILESH KUMAR 20-Sep-93 03-Nov-14
10874 501468 RUPINDER SINGH 01-Jul-92 03-Nov-14
10875 501485 PRABAL PRATAP SINGH 19-Jun-92 03-Nov-14
10876 501507 SANJEEV KUMAR 17-Oct-92 03-Nov-14
10877 501530 ROHIT SINGH CHAUHAN 08-Oct-92 03-Nov-14
10878 501531 JYOTI PRAKASH PANDA 02-Jul-92 03-Nov-14
10879 501566 SHASHANK PUNDIR 08-Oct-92 03-Nov-14
10880 501625 PALAGIRI SAVADAIAH 20-Feb-93 03-Nov-14
10881 501673 OM PRAKASH JHA 27-Feb-93 03-Nov-14
10882 501675 VIJAY BK 17-Oct-92 03-Nov-14
10883 501739 VIKRANT TRIPATHI 05-Feb-93 03-Nov-14
10884 501748 RAMESH KUMAR SINGH 20-Jun-92 03-Nov-14
10885 501757 GIRISH PHULORIA 29-Apr-93 03-Nov-14
10886 501760 GAGANDEEP SINGH 10-Jun-93 03-Nov-14
10887 501764 SURAJ PRATAP 09-Apr-91 03-Nov-14
10888 501794 CHANDAN KR VERMA 05-Mar-93 03-Nov-14
10889 501814 SAURAV PAUL 12-Oct-91 03-Nov-14
10890 501832 AMAR PANDEY 21-Oct-92 03-Nov-14
Also read