Siegwald Academy, Kolkata is one of the best SSB coaching centres in West Bengal. Check out address, contact number and review of Siegwald Academy, Kolkata here. Read more about CDS, NDA, CAPF, ACC and AFCAT coaching centre in Kolkata - Siegwald Academy.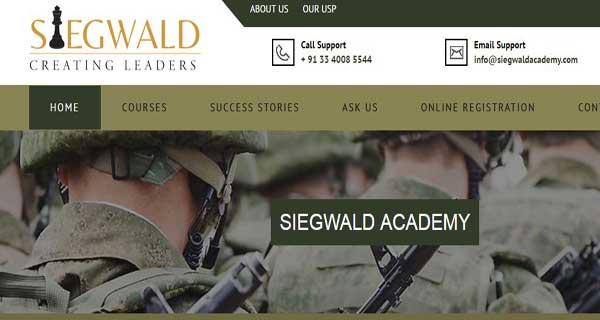 Siegwald Academy for SSB NDA CDS and AFCAT Coaching in Kolkata

Details

Complete Address:

282, Rajdanga Main Rd
Shantipally, Sector C,
East Kolkata Twp, Kolkata
West Bengal 700107

Phone Number:

+ 91 33 4008 5544 | + 91 81000 20614

Phone Number:

+ 91 33 4008 5544 | + 91 81000 20614
Siegwald Academy for SSB coaching in Kolkata, West Bengal
Siegwald Academy is one of the best SSB interview coaching centres in Kolkata of West Bengal. Two week SSB coaching is provided at Siegwald Academy by Ex. SSB officers. Fresh batch of SSB interview starts on every Monday at Siegwald Academy, Kolkata. Siegwald Academy emphasizes on practical training rather than theoretical SSB coaching.
Psychological and GTO tests covered by Siegwald Academy during 12 day SSB coaching
Each and every test of SSB interview is covered by the Siegwald Academy, Kolkata to give best coaching for passing the SSB interview.
Following psychological tests are covered by the SSB training academy.
Intelligence Test
PP & DT (Theoretical Explanation & Practical Training)
TAT ( Thematic Apperception test)
WAT ( Word Association Test)
SRT (Situation Reaction Test)
SD (Self-Description)
Following Group Testing tests are covered by Siegwald SSB Training Academy Kolkata
GD (Group discussion)
GPE (Group Planning Exercise)- Commonly referred as Military Planning
PGT (Progressive Group Task)
Group Obstacle Race
Lecturette
IO (Individual Obstacle)
HGT (Half Group Task)
CT (Command Task)
FGT (Final Group task)
Apart from the above SSB tests, at Siegwald Academy, candidates undergoing SSB training will also get best guidance for SSB personal interview and PABT by the expert trainers. Also candidates will get English Communication training by the academy to excel.
Fee of Siegwald Academy for SSB coaching is fixed as Rs. 12,000 for two week training. For PABT test, candidates need to pay Rs. 2,500 more.
Coaching offered by Siegwald Academy Kolkata
Apart from SSB coaching Siegwald Academy provides coaching for all defence written exams as given below.
Siegwald Academy provides NDA coaching in Kolkata West Bengal.
CDS exam coaching in Kolkata is provided by Siegwald Academy.
Apart from NDA and CDS Siegwald Academy Kolkata provides AFCAT, ACC and CAPF exam coaching for all aspirants who want to become officers in Indian Army, Navy and Air Force.
Written coaching is of 8 weeks duration wherein candidates will be taught about all topics as per the syllabus of the exams.

Average Rating: No rating yet !!!
---
---
Please sign in to review.
---
Reviews of Siegwald Academy for SSB NDA CDS and AFCAT Coaching in Kolkata
No reviews received yet. Be first to review.