SSB Coaching Institute is the one and only SSB coaching centres of Chennai as of now. If you are looking for NDA, CDSE, TA, SSB and AFCAT coaching institutes in Chennai or Tamil Nadu, consider visiting SSB Coaching Institute, Avadi.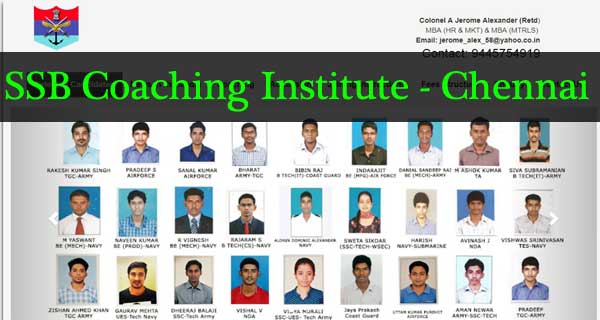 SSB Coaching Institute - Chennai

Details

Founder:

Colonel A Jerome Alexander (Retd)

Complete Address:

38/2/C, 2nd Street,
Anna Complex,
Muthapudupet,
Avadi,
Chennai - 600 055.

Email:

jerome_alex_58@yahoo.co.in
SSB Coaching Institute
SSB Coaching Institute is located in Avadi area of Chennai city in Tamil Nadu. Colonel A Jerome Alexander (Retd) is the founder of SSB Coaching Institute, Chennai to provide SSB training to aspirants who want to get into Indian defence forces as officers.
Coaching offered in SSB Coaching Institute
Main area of coaching of this Chennai based institute is SSB interview. Apart from SSB coaching, presently SSB Coaching Institute of Chennai provides coaching for other defence written exams such as National Defence Academy (NDA0, 10+2 Technical Entry Scheme (TES), Air Force Common Admission Test (AFCAT), Army Cadet College (ACC) and Territorial Army (TA).
Topics covered in SSB coaching at SSB Coaching Institute
Following topics are covered by the SSB Coaching Institute, Tamil Nadu during the SSB coaching.
Screening Test
In Screening test segment, you will be taught about Verbal Intelligence Test, Non Verbal Intelligence Test and PPDT (Picture Perception and Discussion Test).
Psychology Test
All psychology tests that are held during the 5 day SSB interview will be discussed and candidates will get good amount of theoretical and practical classes. During the classes, you will get to know best SSB interview tips and techniques from expert faculty of SSB Coaching Institute.
Group Testing Series
GTO tests of SSB will be discussed during the Group Testing Series. You will get to know about Group Discussion test, Group Planning Exercise, Half Group Test, Command Task and Final Group test. Also you will get to know about interview technique of SSB selection board.
SSB Coaching Institute Fees
For SSB coaching you will be charged around ten to twelve thousand rupees by SSB Coaching Institute, Chennai. For other written exam coaching, you will be charged anywhere between fifteen thousand to twenty thousand rupees as fees for coaching provided.
Candidates who want SSB and AFCAT coaching in Chennai are requested to first confirm the batch timings from the contact details mentioned here.
At present SSB Coaching Institute is one of the best SSB coaching centres in Chennai.

Average Rating: No rating yet !!!
---
---
Please sign in to review.
---
Reviews of SSB Coaching Institute - Chennai
No reviews received yet. Be first to review.