The Cavalier

Details

Complete Address:

C-73, Shardapuri (Marble Mkt.) (Opp. Piller No. 175 Ring Road Metro),
Raja Garden,
New Delhi - 110015
Branch Office
632, First Floor,
Dr. Mukherjee Nagar,
New Delhi - 110009

Phone Number:

011-41446601, 41448382, 9818448881, 9868108881

Email:

contact@cavalier.in, cavaliermukherjeenagar@gmail.com

Phone Number:

011-41446601, 41448382, 9818448881, 9868108881
The Cavalier Delhi
The cavalier specializes in imparting SSB coaching and coaching for various defence written tests such as NDA, CDSE, AFCAT and CAPF in New Delhi. The academy is run by ex defence officers to provide quality SSB coaching for all aspirants who want to pass SSB interview.
The Cavalier is considered as good institute for SSB interview coaching. Faculty of The Cavalier institute Delhi is very experienced and good at grooming candidates for passing the SSB.
SSB Coaching at The Cavalier
At The Cavalier, new batch of SSB coaching starts on every Sunday. This coaching centre also provides 100 hrs quality coaching during the 14 day SSB coaching tenure. Classes at the Cavalier starts at 0900 AM and ends at 0500 PM.
Following schedule is adapted by the institute.
The Cavalier SSB Coaching Fees
The Cavalier provides two options for all candidates who want to get SSB coaching. One is two week SSB training program and another one is one week SSB coaching.
For two week SSB training currently Cavalier fees is fixed as 8,500 Rupees. For one week training fees is fixed as 7,500 rupees. CPF interview coaching of one week is charged at 6,500 rupees. In addition to the fees mentioned, candidates need to pay service tax and refundable security deposit of 500 rupees.
For outstation candidates hostel facility is also available. In winter season, 400 rupees is charged per day and 450 rupees is charged per day during the summers.
The Cavalier NDA, AFCAT, CDSE Coaching
The Cavalier provides good coaching for National Defence Academy and Naval Academy entrance exam, AFCAT and CDS exams. There are two options available for all students who want written coaching for AFCAT, NDA and CDS exams at the Cavalier. First option is to opt for 55 days coaching. In the 55 days batch, candidates need to attend seven hrs coaching daily. Another option is to opt for 100 days coaching. In 100 day training, candidates need to attend classes for 3.5 hrs duration. In both the batches, 10 days are reserved for revision. The Cavalier fees for NDA, CDSE and AFCAT coaching is fixed as 17,500 rupees plus service tax.
OTA coaching at The Cavalier
OTA coaching is available at the Cavalier. Coaching is given for 55 days / 100 days period. OTA coaching fees is fixed as 14,000 rupees plus service tax. OTA coaching is available in both Raja Garden and Mukherjee Nagar branches of the Cavalier institute.
CAPF and ACC coaching at The Cavalier
CAPF i.e., Central Armed Police Forces and ACC i.e., Army Cadet Corps entrance exam coaching is also provided by the Cavalier Delhi. Similar to NDA and OTA coaching, CAPF and ACC coaching is also provided in 55 day / 100 days duration. Fees for CAPF and ACC coaching is fixed as 21,500 rupees plus service tax.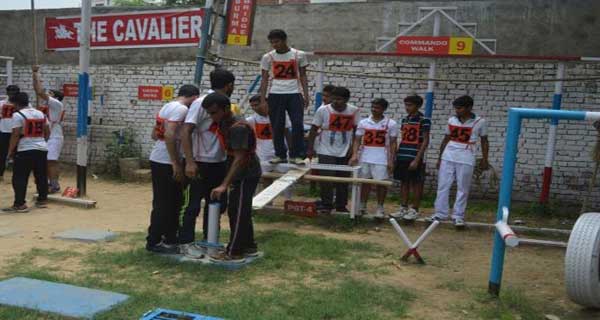 If you want to have good SSB coaching in Delhi, you may consider The Cavalier for getting training.
All the best.

Average Rating: No rating yet !!!