Indian Army and Navy official recruitment websites are outdated than that of Indian Air Force. Check out how Indian Army and Navy official websites are outdated than IAF website here.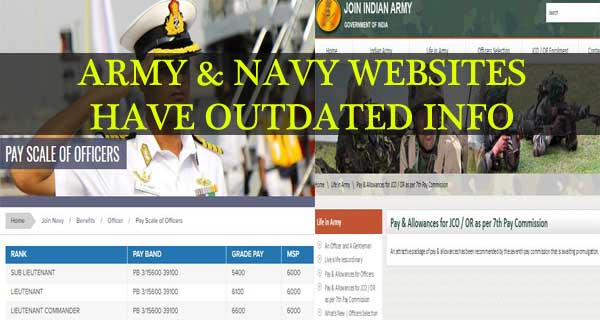 Outdated information on Indian Army and Navy websites
Thousands of aspirants browse through Indian Army and Navy official recruitment websites on daily basis to seek information on notifications, results, SSB interview dates and most importantly the pay scales of officers. Pay scale or in simple words, salary is the main attraction which drives young and talented to pursue career in defence forces.
When it comes to Indian Armed forces, it seems as if the information on salary of officers is given very less priority. Earlier Indian Armed Force officers were getting salaries as per sixth pay commission recommendations. In the year 2016, Indian government had approved and recommended the implementation of Seventh Pay Commission. The Seventh Pay Commission came into effect immediately for all central government employees but defence forces had to wait for long to receive the revised salary.
Effectively, defence forces of India got revised seventh pay commission salaries in the month of July 2017. Approximately 14 to 20 percent salary is hiked with the implementation of Seventh Pay Commission.
Indian Air Force Officers Salary
Indian Air Force has updated its officer salaries in the official recruitment website i.e., www.careerairforce.nic.in. Now the official website of Indian Air Force officers recruitment says that an IAF officer will get starting basic pay of 56,100 rupees and also trainee officers will get 56,100 rupees per month as stipend. Apart from the basic pay, IAF officers will get 15,500 rupees as Military Services Pay after implementation of Seventh Pay Commission. Earlier MSP was fixed as 6000 rupees in the Sixth Pay Commission.
Also Read : IAF Officers Salary after Seventh Pay Commission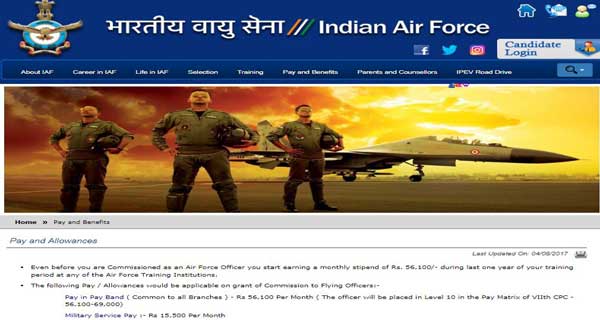 Indian Army officers salary
Indian Army officers also have started receiving the Seventh Pay Commission recommended salary from July 2017. But still the Indian Army website has not updated the salary of its officers in the official recruitment website of Indian Army. Till now the page which provides information on salary of Army officers is displaying that salary as per Seventh Pay Commission is under promulgation.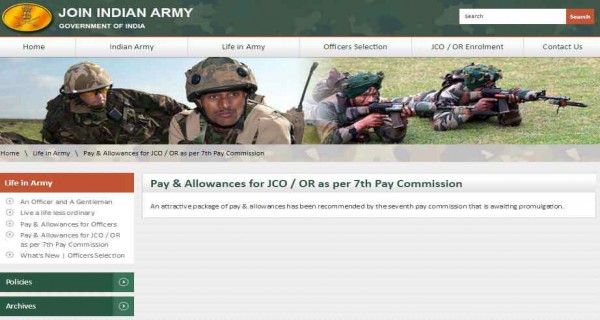 Also read: Indian Army officers salary
Indian Navy officers salary
Indian Navy officers also get the same pay scales as that of Indian Army and Air Force. Incidentally Indian Navy is displaying the old pay scales in its official website. According to Indian Navy website, a Navy officer will get pay band of 15,600 rupees along with Grade Pay of 5,400 and Military Services Pay of 6,000 rupees. As per the Seventh Pay Commission basic salary of a peon or fourth class employee is fixed as 18,000 rupees. Indian Navy also did not considered it important to display that the salaries of Navy officers are under revision.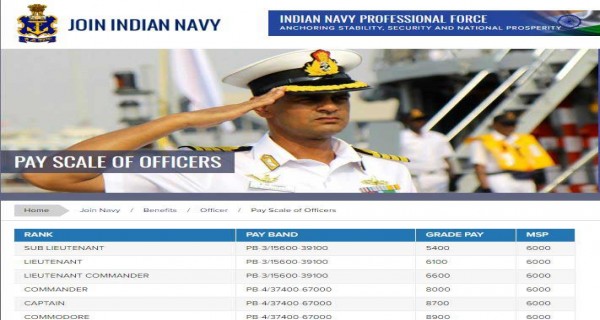 Effects of outdated official websites of Indian Navy and Army
Candidates who have applied for any officers jobs will be able to know about latest pay of officers but if a candidate is interested to join Indian Army or Navy as an officer and visits official websites for information about the salary, he may get false information. Without the latest pay scales displayed on the official websites, candidate may loose interest for applying the job and it may result into loosing of talent.
Conclusion
Now-a-days salary is the potential driving force for aspirants who want to pursue career in any organisation. Thus, it is necessary that Indian Army and Navy must update its official officer recruitment websites with latest information so that no talented candidate is left out because of false / outdated information.
Hope Indian Army and Navy officials will take note of it and update their web portals immediately with the correct and updated information.