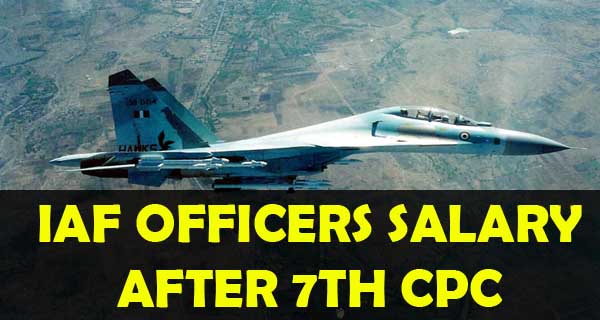 Indian Air Force officers salaries skyrocketed with the recommendations of 7th pay commission panel and the increased salaries will get effective soon. Let us see what were the IAF officers salaries in the 6th pay commission and what are the revised rank wise salaries of Air Force officers after 7th pay commission.
Salary of IAF Air Chief Marshal
Air Chief Marshal is the highest rank of Indian Air Force. Before 7th pay commission, IAF's Air Chief Marshal was getting basic pay of 90,000 rupees per month.
Now after 7th pay commission, salary of an Indian Air Force officer in the rank of Air Chief Marshal is fixed as 2,50,000 rupees. Apart from 2,50,000 rupees basic pay, the Indian Air Force Air Chief Marshal is entitles to draw Dearness Allowance, Travelling Allowance, House Rent Allowance, Flying Allowance and other admissible allowances.
Salary of Indian Air Force Officers of Air Marshal Rank
There are two categories of basic pay applicable to Air Marshal rank officers. One is called as HAG scale and the other is Apex scale. Earlier, before 7th CPC, IAF Air Marshal of HAG scale was getting basic pay of 67,000 to 79,000 rupees per month. Whereas, An Air Marshal of Apex scale was drawing salary between 75,500 to 80,000 rupees.
As per the 7th CPC, Air Force officers of Air Marshal in the Apex scale would get 1,94,035 rupees as starting basic salary. And officers of HAG scale would get 1,72,190 rupees as the starting salary.
Salary of Air Vice Marshal (AVM) of IAF
An Air Vice Marshal rank officer of Indian Air Force was drawing starting basic pay of 53,000 rupees. Now after 7th pay commission, IAF officers of AVM rank will draw salary of 1,61,910 rupees. Earlier the officers used to get 10,000 rupees as grade pay which is now merged in the basic pay.
Salary of an IAF Air Commodore
An Air Commodore of IAF was getting starting basic pay as 52,290 rupees and 8,900 rupees grade pay. After 7th CPC, an IAF officer of Air Commodore rank will draw salary of 1,57,260 rupees as basic pay. Also an Air Commodore will get 15,500 rupees as Military Services Pay after implementation of 7th CPC. Earlier MSP for IAF officers was 6,000 rupees per month.
Air Force Group Captain Salary
An IAF Group Captain rank officer was drawing starting salary of 48,900 rupees and grade pay of 8,700 rupees. Now the same Group Captain of IAF will draw 1,48,032 rupees salary. Also IAF Group Captains will get 15,500 rupees as MSP.
Salary of IAF Officers holding Wing Commander Rank
A Wing Commander of IAF was drawing entry basic pay of 45,400 rupees with 8,000 rupees as grade pay. Same officer would draw salary of 1,37,495 rupees. A hefty 15,500 rupees will be added as MSP for all serving Wing Commanders.
Salary of Indian Air Force Squadron Leader after 7th Pay Commission
After 7th pay commission, a Squadron Leader of Indian Air Force will get starting salary of 83,730 rupees along with 15,500 rupees MSP. Earlier, one Squadron Leader of IAF used to get grade pay of 6,600 rupees and 25,980 rupees as basic pay.
Basic Pay of IAF Flight Lieutenant Rank Officers
As per the 6th CPC, IAF's Flight Lieutenant rank officers were drawing basic salary of 22,960 rupees along with 5400 rupees basic pay. Now as per 7th CPC an IAF Flight Lieutenant would draw basic pay of 74,684 rupees. In addition, Flight Lieutenants will take home MSP as 15,500 rupees.
Salary of Indian Air Force Flying Officer
Flying Officer is the first commissioned rank in the Indian Air Force. At present, starting salary of Flying officer is 15,500 rupees and 5,400 rupees grade pay.
Now a new officer who joins Indian Air Force will draw starting salary of 54,000 rupees as per the 7th CPC. Also he will be eligible to draw Military Services Pay of 15,500 rupees.
Impressed with the salaries of IAF officers and want to join IAF as an officer?
To become an officer in Indian Air Force you need to crack SSB interview.
This is a big bonanza in terms of salary hike with respect to 7th Pay Commission implementation. Hope this will boost the morale of IAF officers to serve for the nation.