About to appear in SSB interview through NDA NA examination? Check out expected questions for NDA candidates in SSB personal interview.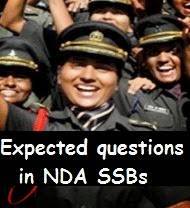 Questions asked to NDA NA candidates during SSB interview are different altogether from CDS entry or other entries.
After passing NDA & NA examination, candidates will be facing one of the toughest interviews i.e.,
SSB interview
. Passing SSB interview is a step through which one will become an officer in Indian armed forces. Though OLQs are tested in each and every test of interview, personal interview is the most crucial test to ascertain the OLQs of a candidate.
Expected personal interview questions for NDA NA candidates
Personal interview reveals many officers like qualities in a candidate. Interviewing officer may ask any question during the personal interview. Though there are no fixed set of questions that will be asked by the interviewing officer, few questions are repeated in many SSB interviews.
Q-1. Why do you want to join defence?
Most frequently asked question for NDA NA candidates during the personal interview is why do you want to join defence forces. As the candidates will be appearing in their first interview, this question is the most expected question. So you need to prepare your reason carefully. Few candidates say that they want to serve for the country and few say that the uniform makes them feel proud and for few candidates money is also motive behind joining Indian Armed Forces.
Q-2. Why did you gave first preference as Army / Air Force / Navy?
As NDA NA candidates have the option to choose services by giving the preference at the time of filling up examination form. So surely interviewing officer will ask candidate why he has selected Army / Air Force or Navy as his first preference and why not any other service. For arts and commerce students, it becomes easy to justify the question but for science students it becomes little bit tough to answer. Don't Why
Q-3. Will you come back again for SSB interview if you fail this time?
The interviewer may ask this question during personal interview for NDA NA candidates. Don't be nervous as he is not telling you indirectly that he is failing you this time. Instead, the interviewing officer is trying to test your personality. If you say you will not return without a valid reason, it will reflect poorly on your personality and OLQs.
Q-4. What is the role of defence forces in our country?
If a candidate is appearing in an interview, interviewer will expect the candidate to know about the organisation. So this question may be tossed up during the SSB interview by the officer taking your personal interview. As many candidates are just twelfth class appearing candidates, most of them don't know much about the organisation. So before appearing in the SSB interview, know about few organisation details.
Q-5. Which course you will opt after 10+2 if you could not become officer and why?
Also an interviewing officer would like to know whether you will continue your quest for becoming an officer or not. So answer very carefully this question. After 10+2 there are plenty of opportunities available for higher studies. So decide it before SSB interview about your future studies. Never try to say that you will join whichever course your father decides for you. It will leave bad impression about you. So here were the top 5 most frequently asked questions in personal interview during NDA SSBs.
Also check out