Revealed - National Defence Academy program is a special documentary of Discovery channel. Special Discover program on NGC will be telecasted on 26th August 2014. Check out insights of National Defence Academy.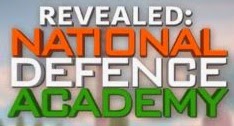 Getting in to
National Defence Academy
is dream come true for most of 10+2 candidates in India. Discovery channel will get deep into NDA and its training pattern. For the first time in the Indian history, a program will be featured on National Defence Academy.
Discover will air Revealed : National Defence Academy program on 26th January 2014 at 0900 PM in India. For NDA lovers, this program is a great opportunity to get an insight of India's premier Defence Academy.
You may get free SMS alert on your mobile phone by Discovery channel. To get free update and reminder, SMS DISCOVERYCHANNEL Y to 56161 from your phone. That's all. Now you need not to remember the timing as Discovery channel will remind you on 26th August 2014 about the special program on NDA.
There will be plenty of information on formation of NDA and its training. One will surely get inspiration after witnessing the Revealed : National Defence Academy program.
We strongly suggest parents and all relatives of 10+2 candidates to encourage the students to watch this NDA documentary program on Discovery channel without fail.