Applied for NDA NA 2 2014 exam and selected exam center in Jammu & Kashmir? UPSC has changed exam center for all candidates belonging to Jammu & Kashmir due to floods.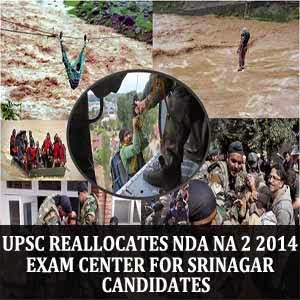 UPSC has provided great amount of relief to all aspirants who have selected their center in Kashmir. As we all know that floods have affected Jammu and Kashmir very badly, many colleges are still flooded. So UPSC has re allocated NDA 2 2014 exam center for J&K students to another center in Jammu.
NDA NA 2 2014 exam
is scheduled to held on 28 September 2014. So candidates who have allotted center at GOVERNMENT S. P. HIGHER SECONDARY SCHOOL, MAULANA AZAD ROAD, SRINAGAR- 190001 will have to appear at GOVERNMENT M. A. M COLLEGE, UNIVERSITY ROAD, JAMMU – 180004.
Candidates from Srinagar who could not download their
NDA NA admit card
may go to Jammu center on 27th September 2014 between 0900 AM and 0500 PM and may get their admit card. Also admit cards will be issued on 28th September 2014 from 0800 AM to 0900 AM.
NDA NA 2 2014 exam will commence on 1000 AM. There are two papers of NDA exam. Paper I Mathematics exam of NDA NA 2 2014 will be held during 1000 AM to 1230 PM and second paper GAT will be held from 0200 PM to 0430 PM.
So go on and prepare for NDA NA exam accordingly.
Also readBest books to pass NDA NA examHow to pass NDA 2 2014 examination