International Fleet Review 2016-17 will be organised by Indian Navy. Check out what's there in for you during the International Fleet Review, Visakhapatnam this time.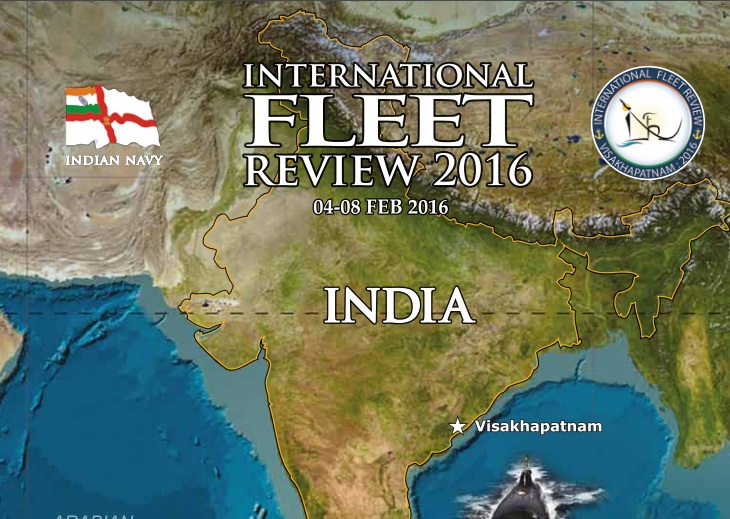 Courtesy : indiannavy.nic.in
What is International Fleet Review?
Indian Naval Fleet is reviewed once in total tenure of Indian President. This review event is called as President's Fleet Riview or PFR in short. PFR is very important for any maritime nation as it showcases the Navy's capabilities and preparedness.
Worlds best maritime nations does frequently use the President's Fleet Review to invite other maritime nations to participate and showcase their ships too. So generally the International Fleet Review in short IFR is an event organised by a nation to enhance its maritime relationship with other countries of the world.
Indian Navy has held its last IFR in January 2001. IFR of 2001 was held off Mumbai and total 29 nations have participated.
This year, Indian Navy has planned for another bigger and even better International Fleet Review from 04 - 08 February 2016.
Venue for IFR 2016 - 17 is Visakhapatnam of Andhra Pradesh.
This will be the 11th President's Fleet Review for Indian Navy where President of India Pranab Mukherjee will be reviewing the fleet.
Check out the theme song of the International Fleet Review 2016 released by the Indian Navy.
Schedule of IFR events
Wreath Laying
First ceremony of IFR 2016-17 will be Wreath Laying at 1971 War Memorial, off RK Beach road where homage will be paid to the warriors who laid their lives for the nation. Wreath Laying event will start at 1620 hrs on 04th February 2015. Only those who have invitation can attend the event.
Maritime Exhibition and IFR Village
Maritime Exhibition and IFR village will be one of the main attractions of IFR 2016-17.
This time, the theme of Maritime Exhibition is Indian PM Modi's favorite Make in India.
The Maritime Exhibition and IFR village are set up at the Andhra University grounds.
On 04th February 2016 after the Wreath Laying ceremony Andhra Pradesh's Chief Minister N Chandra Babu Naidu will inaugurate the Maritime Exhibition and IFR village at around 05 PM.
The Maritime Exhibition and IFR village is open for general public from 02 - 10 February 2016 except on 06 February 2016 - the day Indian PM Narendra Modi visits the exhibition.
Various mind-blowing live performances will be there at the venue to enthrall visitors.
CNS Press Conference
Chief of the Naval Staff Admiral RK Dhowan, PVSM, AVSM, YSM, ADC will hold a press conference at Hotel Novotel - Convention Centre at 1030 AM on 05 February 2016.
Only those who have prior invitation can attend the press conference.
Opening Ceremony of International Fleet Review 2016-17
An opening ceremony will be held at INS Satavahana Stadium on 05 February 2016 from 06 PM to 0830 PM. There will be many traditional art performances to showcase the Indian heritage and culture to the dignitaries coming from various countries.
Various renowned artists will perform on one theme that is 'Seas / Oceans' to give the Naval feel for the guests.
Opening ceremony of International Fleet Review is also exclusive for the invited people only.
Fleet Review
Fleet Review is the main event of IFR 2016 where the President of India will review the Naval fleet.
Fleet Review is scheduled on 06 February 2016 from 09 AM to 1145 AM.
Fleet review will be held off Visakhapatnam harbour.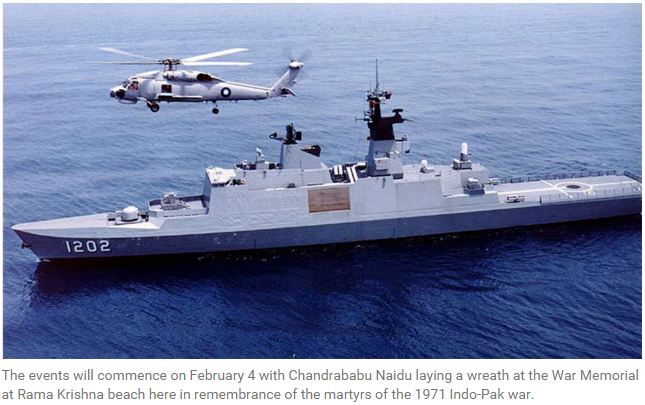 Courtesy:indiannavy.nic.in
This time there will be approximately 75 warships and submarines for the review by the President.
There will be Naval warships not only from the Indian Navy but also from leading Navies of the world for the display of their might.
Ships of the Indian Coast Guard and Mercantile Marine are also taking part in the Fleet Review.
As part of the IFR, the Indian Naval Air Arm will also be reviewed by the President. There will be 45 aircraft flypast display for spectacular review.
This event is also open for only those who have invitations.
Band Concert by Foreign Navy Bands
On 06 February 2016, from 0430 PM to 06 PM there will a Band Concert by foreign Navy bands.
Venue of the IFR 2016 band concert is Andhra University Engineering Ground.
Fortunately this event is open for public.
We would strongly recommend you to attend and get mesmerized by the live performances of foreign Navy bands.
Also the band concert will be repeated at the famous VUDA park on 07 February morning from 1030 AM to 1200 AM for general public to enjoy the concert.
International City Parade
Another major event which is open to public is the International City Parade.
The parade will be held on 07 February 2016 from 0530 PM to 07 PM.
International City Parade will be held off RK beach of Visakhapatnam.
The event is very interesting as the Navy will showcase its operational strength to the general public.
There will be action packed feats from the various Navy warships, submarines and aircraft.
It will be sheer joy to watch the demonstration of Indian Navy's wartime operational capabilities.
Closing Ceremony
Closing ceremony of the International Fleet Review 2016-17 will be held on 08 February 2016 from 07 PM to 0930 PM at Naval Institute.
Closing ceremony can only attended by the invited dignitaries.