Coordination Patrol (CORPAT ) is being carried out jointly by India and Indonesia to safeguard Indian waters. Check out more about Indian Navy and Indonesia Navy joint exercise CORPAT.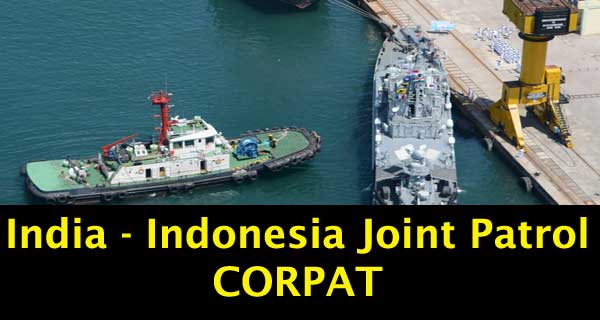 India–Indonesia began their 29th Coordinated Patrol aka CORPAT. It is scheduled to go on from 9th May 2017 till 25th May 2017. The opening ceremony will go on until 12th May.
India and Indonesia have been carrying out regular joint exercises and exchanges of personnel between the Armed Forces of the two countries, the latest being the 29th CORPAT.
Here is all you need to know about it:
The 29th CORPAT is being held at Port Blair under the aegis of Andaman and Nicobar Command.
Indonesian Naval Ship KRI Sutedi Senoputra, an Indonesian Maritime Patrol Aircraft along with the Indonesian Naval delegation will be participating in the exercise from Indonesian side.
The aim of the joint exercise is to secure the trade sea route in the Indian Ocean and to enhance mutual understanding and inter–operability between the two navies.
The visiting crew will stay at Port Blair from 9th May to 12th May 2017 taking part in various activities that include sports fixtures, tour visits and interaction between the personnel of the two sides.
From there, the exercise will start and will move on to Indonesia where the closing ceremony will be held at Belawan. It is scheduled from 22nd to 25th May 2017.
The CORPAT exercise between the two navies carries search and rescue operations, institutes measures for vessels indulged in unlawful activities as well as control pollution.
The Indian Navy and Indonesian Navy have been carrying out coordinated patrolling twice a year since 2002. This bilateral exercise is being held near the International Maritime Boundary Line to keep this part of the Indian Ocean region safe and secure for commercial shipping and international trade.