Ex Indian Navy officer Kulbhushan Jadhav is convicted by Pakistan for anti-national activities and spying. Kulbhushan Jadhav has been sentenced to death by Pakistan court. Check out complete details of Kulbhushan Jadhav and his case going on in ICJ.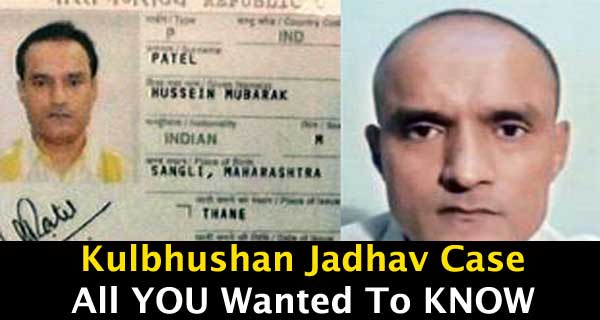 On 18th May, the International Court of Justice based in The Hague stayed the execution order given by a Pakistan Military Court on retired Indian Navy's Commander Kulbhushan Jadhav.
He was abducted from Iran where he was working as a businessman. The Pakistani court allegedly termed Jadhav as an Indian spy working for RAW and awarded death sentence to him. It also released a video where Jadhav was allegedly accepting his role as an Indian spy.
India's attempts to get in touch with Jadhav was also not being paid heed to by Pakistan, following which, India moved to the ICJ to appealing provide consular access to the Indian national, disobeying which is the violation of the Geneva Convention.
Here is how it all started and the story so far
2016: Arrest of Kulbhushan Jadhav on charges of spying
March: Kulbhushan Jadhav is arrested by Pakistan on the charges of being a spy for RAW. He is also charged with helping the separatists in Balochistan.
The exact place of his arrest is still unclear with Pakistan saying that he was arrested in Saravan while India says he was kidnapped in Iran.
Further, Pakistan denied India consular access to Jadhav. Following this, about 20 days later, a video showing Jadhav's alleged confessions was surfaced by Pakistan. India questions the authenticity of the video and accuses Pakistan of torturing Jadhav.
India, on the other hand, claimed the video to be unauthentic and accused Pakistan of torturing Jadhav.
April: A FIR was filed against Jadhav on charges of terrorism and sabotage by Balochistan's provincial government.
December: Pakistan's Sartaj Aziz says his Pakistan doesn't have enough evidence and his country's authorities will need more evidence to prove their case against Jadhav.
2017: Pak awards death sentence and India moves ICJ
March: Sartaj Aziz says Kulbhushan Jadhav won't be handed over to India and reverts from his statements last December.
April: A Pakistani Military court awards death sentence to Jadhav. This quickly raised tensions between both the nuclear-armed countries.
Acting to this, S Jaishankar, the Indian foreign secretary called for Abdul Basit, the Pakistan high commissioner and termed the proceedings as 'farcical'.
Denying Jaishankar's comments, Pakistan said that the proceedings were transparent and were "based on" Jadhav's confession.
India reacted by submitting a plea to Pakistan on behalf of Jadhav's mother against his sentence and sought visas for his family and consular access to him, all of which were denied by Pakistan.
Furthermore, Pakistan refused to share Jadhav's health report, death sentence copy or the copy of the charge sheet against him.
According to an official Pakistani statement, Jadhav was tried under 'Section 59 of the Pakistan Act 1952 and Section 3 of Official Secret Act 1923'.
May: India moved to ICJ and sought a stay on Jadhav's death sentence. ICJ ruled in India's favour and stayed the death penalty awarded to Jadhav. "Pakistan shall take all measures at its disposal to ensure Kulbhushan Jadhav is not executed pending a final decision by the court," said judge Ronny Abraham of the ICJ.
Shortly after the verdict came in favour of India, Pakistan owed to provide more evidence against the accused Kulbhushan Jadhav to the International Court of Justice. Meanwhile, the ICJ has also instructed Pakistan to give consular access for India to meet with Kulbhushan Jadhav.
From this on, the fate of Kulbhushan Jadhav lies in the verdicts of the ICJ.