Writing good PPDT and TAT stories is very important for passing SSB interview. Check out expert tips to write best stories for PPDT and TAT pictures. Also know how to write impressive stories in SSB interview here.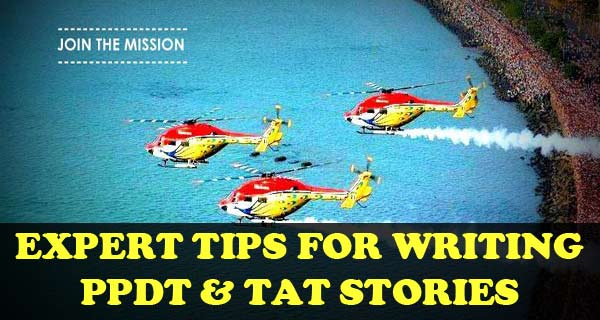 How to write good PPDT and TAT stories?
Though PPDT and TAT are two different tests of SSB interview, they are almost similar in nature. In both of the tests, candidates need to write a story on the picture shown. Major difference between SRT and PPDT is group discussion event. In PPDT test, candidates need to write story on PPDT picture, discuss and form a common story. Where as in TAT test of SSB interview, candidates need to write stories for twelve pictures shown to them. In TAT test of SSB candidates will not participate in group discussion.
Main aspect of both the tests is story wiring. Candidates need to write good story to not only impress the selection board psychologists but also to showcase their officer like qualities.
During the assessment of stories written by candidates the SSB psychologists go through some brilliant stories and some vague stories as well. After thorough assessment, the psychologists will arrive at a conclusion about the potential and psychology of candidates. According to many psychologists of SSB boards, candidates who wrote vague stories do lack the knowledge of PPDT and TAT tests. It is not that they lack officer like qualities but it is their ignorance about the importance of story written by them.
So before proceeding to read further, go through the PPDT and TAT test procedure for better understanding.
Check out what TAT test is all about
Story writing in PPDT and TAT tests of SSB interview
Do you remember bedtime stories that your parents or grandparents used to tell you in your childhood? Take a minute to remember those stories. A good story can be divided into three parts.
Introduction of prologue
Main story - which involves a problem / concern and someone overcoming that problem / concern.
Ending which ends with providing little information about the future.
When all the three elements are blended properly then it becomes a perfect story which impresses the readers of listeners. Same rule applies to PPDT and TAT stories. To write good PPDT and TAT stories you need to focus on above mentioned three aspects. Story should start with past describing the background of the story. Then a solid story where there is a problem and solution. Finally writing little bit about the aftermath or future will make the story perfect.
Also read - How to write good PPDT and TAT stories
Many candidates write incidents instead of stories. There is a lot of difference between a story and an incident. Story is imaginative and creative. Through story one can portrait their feelings and response to a situation. That very response is sought by the psychologists of selection board. They don't look for mere incidents but they want a story where you are the lead. You must identify a problem or concern and should give solution to solve the problem. Your way of problem solving is the key to success during PPDT test.
Also if your PPDT story is rock solid then other group members will also have no option but to agree with your story. When a bunch of people agree that your story is good then it shows that you have office like qualities in you and increases chances of selection.
Similarly, if you write good TAT stories, then automatically you will become a potential candidate to get recommended by the selection board.
It is very important for SSB aspirants to note that the story should be achievable and actionable by a common human being. Don't pore extra amount of action in your stories.
Grammar and vocabulary also plays a vital role in writing good PPDt and TAT stories. If your writing skills are poor, then you will not be able to communicate your thoughts and ultimately end up in writing poor stories. If your English writing skills are poor, then don't worry but start practicing English from now itself and you will definitely come up with flying colors.